Story Progress
Back to home
Panini with Leftover Chicken Recipe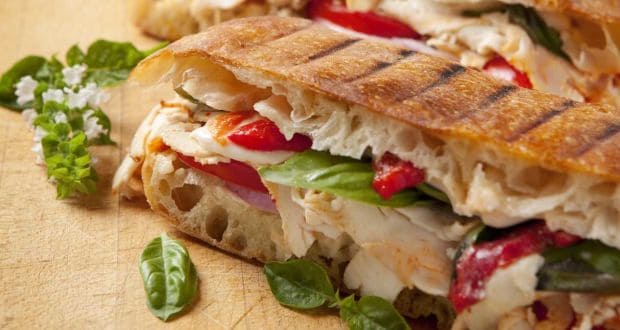 How to make Panini with Leftover Chicken
NDTV Food
About Panini with Leftover Chicken Recipe: A fresh and wholesome sandwich with chicken bits, peppers, rocket leaves, an eggplant-tomato chutney and all good things.

Ingredients of Panini with Leftover Chicken
3-4 chunks of leftover boneless chicken, sliced
1 ciabata loaf / any bread
1 tbsp olive oil or mustard oil
2 tbsp onions, sliced
2 tbsp bell peppers, sliced
1/2 tsp tahini paste / butter
20 gms scarmoza/ mozzarella cheese (smoked)
1 tsp fresh coriander, finely chopped
1 cup fresh rocket leaves
1 tsp lemon juice
salt and pepper (to season)
For Eggplant and Tomato chutney:
1 tbsp olive oil
1 medium eggplant
100 gms tomatoes, finely chopped
2 basil leaves, finely chopped
1/2 tsp red chilli powder
salt & pepper (to season)
1.
Cut the eggplant lengthwise into 2 and season it with salt and pepper. Then, drizzle the olive oil and roast in the oven at 180 degree C for 15 minutes.
2.
Once the eggplant is cool enough to handle, scoop out the flesh and transfer into a bowl.
3.
Check the seasoning and add the tomatoes and basil to the eggplant n mix well.
4.
Grill or toast the bread and then spread the tahini paste.
5.
Heat the leftover boneless chicken in a pan or in the oven if required.
6.
Then, in a pan with little oil and high heat, saute the sliced onions and bell peppers for a minute and then add salt and pepper.
7.
Dress the rocket leaves with salt, pepper, lemon juice and olive oil.
8.
Now, pile the bread with the onions, peppers and chicken pieces and finally, cover with the scarmoza / moazzarella cheese.
9.
Top it up with the rocket leaves, cover with the other bread and enjoy with a fresh seasonal salad.