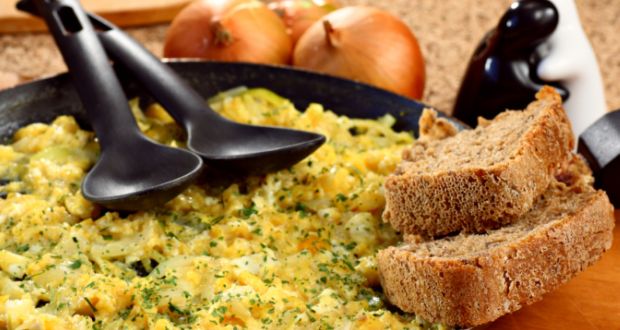 As the name suggests, this one is a traditional Parsi dish, popularly known as 'Akuri'. Scrambled eggs with mild spices eaten with bread, buns or rotis.
Ingredients of Akuri (Parsi Eggs)
4 Eggs
3 large potatoes (finely sliced), peeled
2-3 tbsp oil
1 tsp cumin seeds
1 green chilli , finely chopped
1 tsp garlic, chopped
2 onions, sliced
1 tbsp coriander, chopped
Salt and pepper
How to Make Akuri (Parsi Eggs)
1.

Heat oil in a large frying pan, add the cumin seeds and allow them to sizzle.

2.

Add the green chilli, garlic and onions. Cook until softened. Add the potato slices to the pan. Cook without coloring for 5 minutes.

3.

Pour in enough water to come just below the contents of the pan. Cover and cook over a low heat until the potato is tender. Sprinkle the coriander.

4.

Mix ingredients and level out again. Make four indentations in the mixture, about 1/2" away from the pans side. Break an egg into each hollow.

5.

Cover and cook until the eggs are just set. Cut into 4 segments and serve with bread and salad.
Key Ingredients: Eggs, potatoes (finely sliced), oil, cumin seeds, green chilli , garlic, onions, coriander, Salt and pepper