Story Progress
Back to home
Akuri (Parsi Eggs) Recipe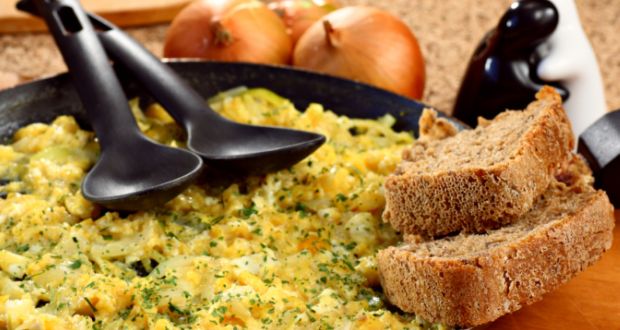 How To Make Akuri (Parsi Eggs)
iStock
About Akuri (Parsi Eggs) Recipe: As the name tells itself, this one is a traditional Parsi dish, popularly known as 'Akuri'. Scrambled eggs with mild spices eaten with bread, buns or rotis.

Ingredients of Akuri (Parsi Eggs)
4 Eggs
1/2 tsp cumin seeds
1 green chilli (optional), finely chopped
2 garlic cloves, finely chopped
1 onion, finely chopped
2 tbsp fresh coriander leaves, finely chopped
1/2 tsp salt
1 medium tomatoes, chopped
2 tbsp milk
2 tbsp butter
1/4 tsp turmeric powder
1/4 tsp red chilli powder
1.
In a bowl whisk the eggs with salt and milk.
2.
Heat butter in a non-stick skillet over medium-high heat and add in the cumin seeds, the garlic, chopped green chilly and the onions. Sauté till fragrant for about two minutes.
3.
Add in the chopped tomatoes and sauté for a minute. Add the turmeric and red chilli powders and sauté for a further two minutes.
4.
Lower the temperature to a medium-low flame and add in the eggs stirring gently making sure that they don't set firm.
5.
While still a bit runny, sprinkle the chopped coriander leaves over the eggs and turn off the flame.
6.
Serve hot alongside toasted, buttered bread or with crusty bun pao.