Story Progress
Back to home
Pasta with Mint Sauce Recipe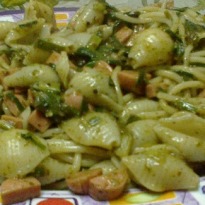 How to make Pasta with Mint Sauce
A spicy pasta recipe topped with a tangy mint sauce.
Total Cook Time

45 mins 10 seconds

Prep Time

10 mins 10 seconds

Ingredients of Pasta with Mint Sauce
250 gm spaghetti
100 gm macaroni
4 Tbsp mint sauce
5 sausages
A bunch green onions/scallions
1 pod garlic
3 Tbsp spinach paste
Salt &pepper- to taste
Olive oil
For the Mint Sauce:
(Blend all together)
1 bunch mint leaves
1/2 bunch coriander leaves
4 green chillies
2 tsp tamarind pulp
Salt to taste grind
All this with a bit of water to a paste
2.
For cooking the pasta follow the instructions on the cover.
3.
Tip: Put the pasta only when the water is boiling well. Do not add oil as the boiling water is good enough.
4.
Once cooked always reserve the cooking water and drain the pasta to a colander.
6.
In a non-stick pan heat 2 tsp of olive oil.
8.
Add the chopped green onions, garlic and saute.
9.
Don't cover it or u will loose the green color of the onions.
10.
If you cannot get hold of green onions you can use red onions or white ones.
11.
Once the onions are sauteed add the sausages (chopped and quartered) to it and mix well.
12.
Add spinach paste and saute for a minute.
13.
Now add the drained pasta and mix it carefully.
14.
To give the pasta depth add some of the cooking liquid that you saved. About half a cup or so to thicken the sauce.
15.
Let it cook for 2 minutes.
16.
Now add the mint sauce and toss the pasta for 3-4 minutes
17.
Add salt and pepper. Be careful with the pepper because you have already added a spicy mint sauce.
18.
Garnish with chopped onions and spray quarter of a lemon over it(optional).
19.
Serve it pipping hot with some cream.