Story Progress
Back to home
Peanut Butter / Chocolate Cupcakes Recipe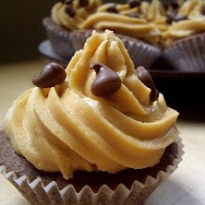 If you love all things sweet and nutty, these delicious peanut butter and chocolate bar cupcakes will prove totally irresistible!
Total Cook Time

1 hr 05 mins

Ingredients of Peanut Butter / Chocolate Cupcakes
For the Cake:
150 g (5 1/2 oz) unsalted butter, chopped
115 g (4 oz) soft brown sugar
2 eggs
125 g (4 1/2 oz) crunchy peanut butter
125 g (4 1/2 oz) self-raising flour
30 g (1 oz) plain (all-purpose) flour
60 ml (2 fl oz) milk
For the Frosting:
3 oz butter
6 oz icing sugar
1 oz cocoa powder (depending on how strong you want it)
1 tsp of water
Roasted and cut (in small pieces) hazelnuts
1-2 bars of chocolate cut into small pieces
For the Cake:
1.
Preheat the oven to 180°C (350°F/gas mark 4). Line 18 flat-bottomed cake tray holes with paper cases.
2.
Beat the butter and sugar together in a bowl with electric beaters until light and creamy.
3.
Add the eggs, one at a time, beating well after each addition.
4.
Add the peanut butter and beat until combined.
5.
Fold in the sifted flours alternately with the milk until combined. (e.g add some flour then some milk then some flour etc).
6.
Divide the mixture evenly among the cases.
7.
Bake for 10-12 minutes, or until a fork (yes i test with a fork or knife) comes out clean when inserted into the center of a cake.
8.
Transfer onto a wire rack to cool completely. While it cools make the icing.
For the Frosting:
1.
Beat 3 oz butter until soft. Sift in 6 oz icing sugar and up to 1 oz of cocoa, depending how strong you want the icing.
2.
Add 1 tbsp boiling water and beat until well blended.
3.
Put in a pipe (if you have one, or you can simple spread) then gently sprinkle over some roasted hazelnuts and some chocolate pieces
4.
NOTE: You can make cupcakes from any of your favorite chocolate bars, just swap the peanut butter for the same grams of that chocolate bar and include it in the topping!