Story Progress
Back to home
Pesto Chicken Recipe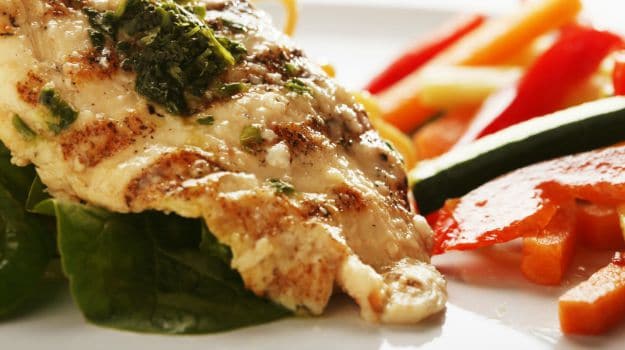 About Pesto Chicken: A very light dish which is full of basil's magical flavor. Chicken fillets coated in pesto sauce and baked with tomato rounds and mozzarella cheese.

Ingredients of Pesto Chicken
For the pesto sauce:
1/2 cup olive oil
1/2 tsp garlic paste
2 1/2 cups fresh basil leaves
2 Tbsp Parmesan cheese
1 big Tbsp pine nuts
1 big Tbsp butter
Salt and pepper
For the chicken:
4 fillets chicken breast or thigh
Lemon juice
Salt, to taste
Pesto sauce
Tomatoes, sliced round
Mozarella cheese
For the pesto sauce:
1.
Blend all ingredients together.
2.
Start with pine nuts and garlic. Then add basil and olive oil.
3.
Blend and add pepper & salt. Lastly add butter and Parmesan and give a final blend.
For the chicken:
1.
Take the chicken fillets and beat them flat with a mallet and marinate it in some lemon juice and salt. (5 minutes)
2.
Now coat the chicken fillets with pesto sauce.
3.
Turn onto baking dish and bake at 190 degrees for 25 minutes approximately or till cooked.
4.
Add tomato rounds and grated mozzarella and bake for 10 more minutes or till the cheese melts.