Story Progress
Back to home
phirni Recipe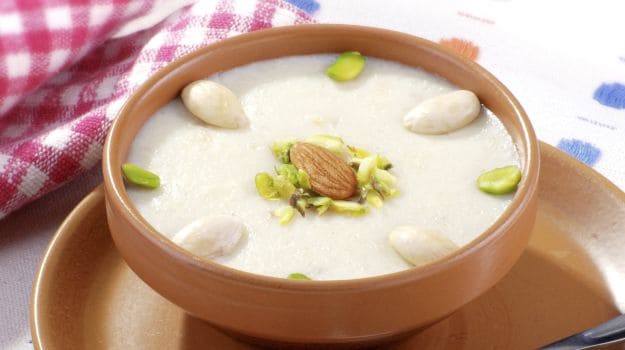 How to make phirni
A Luckhnowi delicacy, specialty of Awadh region. A must have in Islamic festivities. Easy to make and heavenly in taste. Cooked with blended soaked rice in sugar and ghee. Served with garnish of almonds and pistachios.

Ingredients of phirni
Basic paste
50 gram Basmati Rice
1000 ml Milk
10 tbsp Sugar
For taste
1/2 tsp Green Cardamom Powder
0.5 gram Saffron
Garnishing
50 gram Green Pistachio
1.
Soak rice in water for 1 hour.
2.
To make the paste of the rice, mix in a blender.
3.
For the next step, take a deep bottom pan and out milk in it.
4.
Add the rice paste and sugar to the hot milk.
5.
Add saffron and green cardamom powder.
6.
Continue cooking till it starts bubbling gradually and the mixture turns homogenous.
7.
Be careful and slow till the mixture is of the right consistency.
8.
When it is mixed well, the phirnee is ready.
9.
Pour hot phirnee in water soaked sakoras and chill for a couple of hours in refrigerator.
10.
Serve chilled garnished with sliced pistachios.