Story Progress
Back to home
Pie Crust Recipe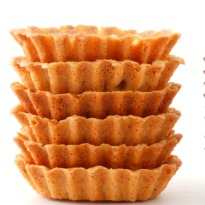 How to make Pie Crust
A very easy to make crispy pie crust recipe.

Ingredients of Pie Crust
1 cup flour / maida
1/2 cup butter, softened not melted
Salt, a pinch
2-3 tsp cold water
1.
In a plate/ deep dish sieve the flour and salt together. Make sure there are no lumps.
2.
Add the softened butter and mix it together with hands to make a crumbly mixture.
3.
With the help of some cold water combine the whole mixture together. Note: Do not knead the dough, it is supposed to be gently combined together. Store in the fridge for 10 minutes.
4.
Once this is done, roll out the dough (1 cm thick) on a flat and clean surface. Make sure the dough is rolled in forward direction, do not roll haphazardly.
5.
According to the size of your pie tin, cut out the dough and place it carefully in the tin.
6.
Place a small piece of butter paper on the pie tin. Place 6-7 dry channas/rajma on it (This procedure is called bake blind. It is important to bake blind so that the pie doesn't rise.)
7.
Bake for 5 minutes at 180 degrees.
8.
Remove the paper and channas/ rajma and bake it till golden and crisp. Remove from oven.
9.
Let it cool and fill the crisp pie shells with a filling of your choice.