Story Progress
Back to home
Poisson Provencale Recipe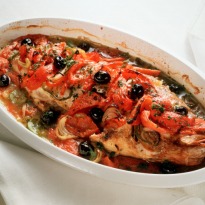 Poisson Provencale is a popular recipe from south of France. Fragile fish fillets simmered in a sauce made with white wine, fresh tomatoes and herbs.

Ingredients of Poisson Provencale
Red tuna fish
For marination:
Lemon
Salt
Black pepper
Mixed herbs (rosemary, thyme, and marjoram)
For main preparation:
1 Tbsp refined oil
4 Tbsp chopped onions
3 tsp roasted, peeled and de-seeded capsicum
4 tsp chopped tomatoes
1 tsp chopped garlic
1 tsp chopped parsley
1 pinch of mixed herbs
Marinated fish
25 ml white wine
1/2 cup of water
Salt to taste
pepper to taste
1.
Marinate the fish with lemon, salt, black pepper powder and herbs for 1 hour.
3.
Add chopped onions and saute till translucent.
4.
Now add the roasted, peeled and de-seeded capsicum, tomatoes, garlic, chopped parsley, herbs and the marinated fish.
5.
Add white wine, water, salt and pepper.
6.
Cover the pan and cook the preparation for 20 minutes on low flame.
7.
Serve poisson provencale with rice.