Story Progress
Back to home
Polenta Crusted Bombay Duck Recipe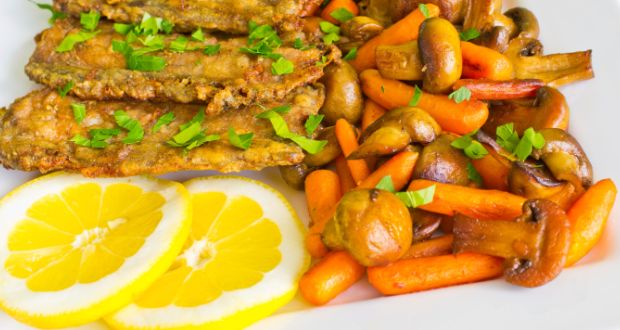 How to make Polenta Crusted Bombay Duck
Marinated fish fillets wrapped in zucchini, rolled in polenta and grilled. Served with a refreshing salsa of fresh fruits and coconut cream.

Ingredients of Polenta Crusted Bombay Duck
3-4 fish fillets of bombay duck
3-4 thinly sliced zucchini
2 Tbsp polenta
Some olive oil
Marinade for the fish:
1 Tbsp mustard
2-3 cloves garlic, chopped
1/2 Tbsp fresh herbs (thyme, rosemary and sage)
1 Tbsp olive oil
1 Tbsp white wine
For the fresh fruit salsa:
1/2 apple, chopped fine
2 slices mango, chopped fine
1/2 kiwi, chopped fine
5-6 pieces of an orange
2 slices melon, chopped fine
1 plum, chopped fine
1/2 celery stick, chopped fine
1/2 lemon juice
1/2 chilly, thinly chopped
A pinch of salt
2 Tbsp coconut cream (first extract of coconut)
Some coriander leaves for garnish
1.
Mix all the marinade ingredients and coat the fish fillets with with.
2.
Keep aside for 10 minutes.
3.
After 10 minutes, place each fish fillet on a zucchini slice.
4.
Roll it up, making zucchini the outer layer and stick a toothpick through the roll.
5.
Sprinkle a little bit of polenta over these rolls. (Polenta is a yellowish cornmeal made with dried maize)
6.
Pre-heat a pan for about 5 minutes.
7.
Drizzle the pre-heated pan with some olive oil.
8.
Place the fish and zucchini rolls on the pan and into the oven for about 5-7 minutes. (till the top turns brownish)
9.
In the meanwhile you can prepare the fresh fruit salsa.
10.
Mix all the chopped fruits in a bowl. You can use any fruits as you like.
11.
Add to that the celery and lemon juice. Add the chilly and salt.
12.
Now, add the coconut cream. Mix well. Garnish with some fresh coriander leaves.
13.
Serve the grilled rolls with some lettuce leaves and the fresh fruit salsa.