Story Progress
Back to home
Pork Chops Recipe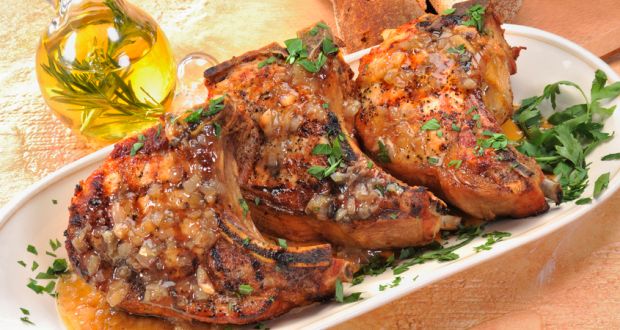 How to make Pork Chops
About Pork Chops Recipe: Pork chops marinated with a home-made garam masala mix, and cooked till tender. Serve with a fruity salad.

Ingredients of Pork Chops
For Garam Masala:
1 cinnamon stick
2 tbsp pepper corns
2 star anise
3 tsp fennel seeds
1 tbsp cloves
For Pork Chops:
2 meat chops
2 tsp vegetable oil
to taste salt
Oil (for frying)
1 tsp honey
For Cucumber, Spring Onion and Apple Salad:
Handful of cucumber, julienne
1 Apple, chopped
Handful of spring onions, chopped
Coriander leaves, chopped
Salt and pepper (to flavour)
1 1/2 tsp sesame seeds
Prepare Garam Masala:
1.
In a pre-heated pan, add cinnamon, cloves, peppercorns, star anise and fennel seeds, and roast them.
2.
Transfer it into a pestle
3.
Grind the mixture into a powder.
Prepare the Pork Chops:
1.
Nicely smother the pork with refined oil and garam masala powder.
2.
Drizzle refined oil in a pre-heated pan.
3.
Add the masala-marinated pork and fry it well. Drizzle honey.
4.
Serve it in a platter with some boiled noodles and apple and cucumber salad.
Prepare Cucumber, Spring Onion and Apple Salad:
1.
Take cucumber, apple, spring onions and coriander leaves in a bowl.
2.
Add salt and pepper to taste.
3.
Add sesame and mix it all together.