Story Progress
Back to home
Punjabi Machchi Recipe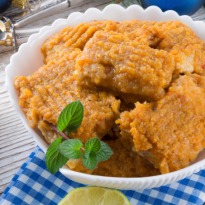 Here's a simple fish recipe zinged into a Punjabi avatar! Fish fillets coated in garlic, red chilli, mint paste with a dash of chillies, lemon juice, amchur, garam masala and cooked to perfection.

Ingredients of Punjabi Machchi
600-750 gm fish fillets, cut into cubes and marinated
For the marination:
1 Tbsp lemon juice
1 tsp garlic paste
1 tsp ajwain, crushed
1 tsp mint paste
1 Tbsp oil
1 tsp green chilli paste
1 tsp salt or as required
1 tsp kashmiri chilli powder
For garnishing:
1 tsp amchur
1 tsp garam masala
1 cup onions, finely sliced
1 lemon, cut into wedges
1.
Keep the marinated mixture refrigerated for an hour.
2.
Put oil in a pan and cook covered at high heat for about a minute, then add fish to it.
3.
Cook uncovered at high heat for 15 minutes, turn once.
4.
Garnish with the amchur, garam masala, onions and lemon wedges.