Story Progress
Back to home
Quail Legs with Tamarind Glaze and Fig Chutney Recipe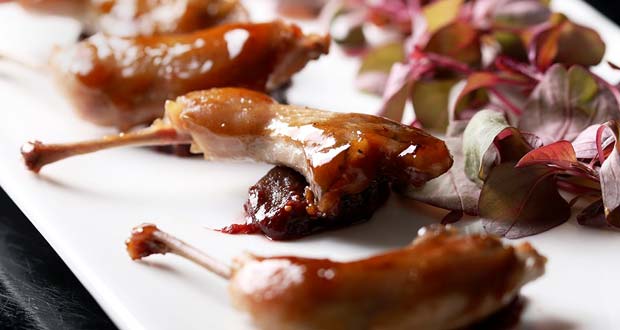 A gourmet plate featuring tangy glazed quail legs served with a freshly made fig chutney.

Ingredients of Quail Legs with Tamarind Glaze and Fig Chutney
4 pair of quail legs
40 ml of olive oil
Saltand pepper to taste
100 gm of tamarind
18 gm of Sugar
10 pieces of figs
30 gm of brown sugar
200 ml of red wine
50 gm of butter
How to Make Quail Legs with Tamarind Glaze and Fig Chutney
Hide

Show

Media
For quail legs:
1.
Marinate the legs in olive oil, salt and pepper.
For tamarind glaze:
1.
Add the tamarind and sugar together in a pan.
2.
Cook it on a low heat and keep stirring.
3.
Pour in 50 ml of water and cook it until the tamarind and sugar combine together to give it a glazing consistency.
For fig compote:
1.
Cook figs, brown sugar and red wine in a pan on medium heat until the red wine has been reduced to a syrup consistency and the figs are cooked through.
2.
Add salt and pepper to taste.
4.
Cook the legs in an oven at 180 degrees for 5 minutes.
5.
Coat them with tamarind glaze on a bed of fig compote.