Story Progress
Back to home
Ragi Coffee Cake with Kahlua Chocolate Ganache Recipe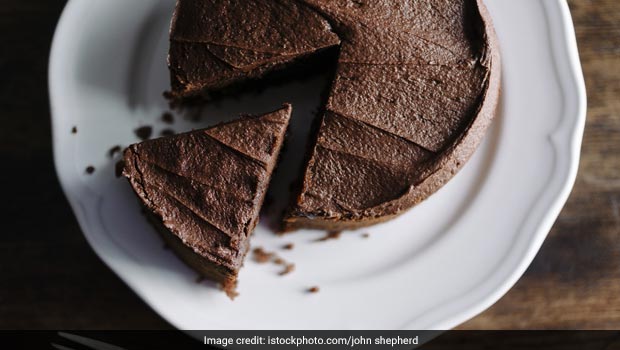 How to make Ragi Coffee Cake with Kahlua Chocolate Ganache
A decadent coffee cake made with the goodness of ragi flour, and topped with rich chocolate ganache that is spiked with Kahlua for that extra dark coffee kick.

Ingredients of Ragi Coffee Cake with Kahlua Chocolate Ganache
100 Gram butter
1/2 cup castor sugar
2 eggs
3/4 cup ragi flour
2 tbsp instant coffee
1 tsp baking powder
For the Kahlua Chocolate Ganache
1 cups thick cream
200 gram compound chocolate
2 tbsp Kahlua
How to Make Ragi Coffee Cake with Kahlua Chocolate Ganache
Hide

Show

Media
1.
Preheat the oven at 100 degree C.
2.
Melt the butter in a double boiler. Keep it aside and let it cool completely.
3.
In a mixing bowl, whisk the butter. Add the sugar, a teaspoon at a time, and continue whisking until well combined.
4.
Add the eggs and whisk well.
5.
Sift together the ragi flour and baking powder. Add it, a teaspoon at a time to the above mixture while you continue folding. Ensure that no lumps are left behind but do not over mix.
6.
Dissolve the instant coffee in 4 Tbsp hot water and pour it into the above mixture.Give it a final fold, and transfer to a small baking tin (6 inch diameter). Bake in the oven at 150 degree C for 15 minutes or until a skewer inserted at the center of the tin comes out clean.
7.
For the Kahlua Chocolate Ganache
8.
Pour the cream in a saucepan and place it on a medium flame. Continue stirring until it comes to a slight boil.
9.
Chop the chocolate into smaller chunks and place them in a mixing bowl. Pour the hot cream over it and let it stand for 7-8 minutes.
10.
Whisk the mixture until smooth and creamy. Add the Kahlua and whisk again. Let it cool completely at room temperature before applying it on the cake.
11.
Note: You can also sprinkle some cocoa powder on top before serving.