Story Progress
Back to home
Ragi Samosa Filled With Cucumber, Peas and Cashew Nut Recipe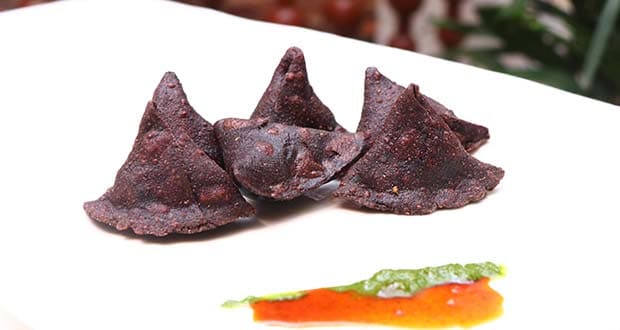 How to make Ragi Samosa filled with Cucumber, Peas and Cashew nut
The lighter version of the traditional oil-laden samosas. Get your samosa cravings fulfilled without compromising on your health. This healthy, tea-time snack is perfect for your next dinner party.

Ingredients of Ragi Samosa Filled With Cucumber, Peas and Cashew Nut
220 gms ragi flour
120 ml water
1/2 tsp ajwain
to taste salt
For the Filling:
1/2 tsp cumin Seeds
5 gms ginger, chopped
1 nos green chilli, chopped
20 gms cashew nuts
20 gms raisins
2 nos cucumber
1/2 tsp turmeric Powder
40 gms peas (boiled)
25 gms potatoes (boiled)
to taste salt
Few sprigs fresh Coriander
Few sprigs mint leaves
250 ml canola Oil
To serve tamarind or mint Chutney
How to Make Ragi Samosa Filled With Cucumber, Peas and Cashew Nut
Hide

Show

Media
1.
Sift ragi flour in a ceramic bowl, add water and mix well to have the consistency of a pancake batter.
2.
Cook the batter in microwave for 30-40 sec. Remove from the microwave and allow it to cool.
3.
Knead semi-hard dough by adding more ragi flour, ajwain and salt, then let it rest.
4.
Heat a pan, sauté cumin until it begins to sizzle. Add ginger, green chillies, cashew nut and raisins.
5.
Cook for another 1-2mins. Quickly add chopped cucumbers, turmeric powder, boiled peas, potatoes to the pan.
6.
Mix everything well and sauté for 3-4 minutes. Season with salt.
7.
Add fresh coriander and mint leaves.
8.
Set aside to cool down for later use.
9.
Divide the dough in to small circles and then flatten it to oval or oblong shapes and cut in to half.
10.
Smear water over edges and join them to make a cone. Fill the cone with mixture and close the edges.
11.
Heat oil in a pan and fry the samosas until done. Drain them on kitchen paper towel and serve with tamarind or mint chutney.