Story Progress
Back to home
Ricotta Dahi Bhalla Recipe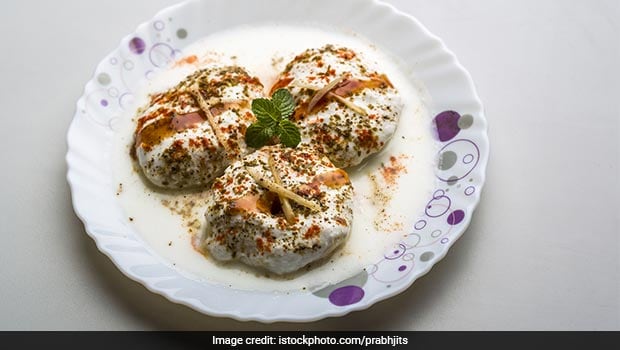 How to make Ricotta Dahi Bhalla
A delicious blend of curd, spices and bhalle made with urad dal and stuffed with ricotta cheese and walnut. Try these special dahi bhalle with a cheesy twist this Holi and have an impressive menu for your party!

Ingredients of Ricotta Dahi Bhalla
For Bhalla:
120 Gram Urad dal
60 Ml Water
10 Gram Salt
For frying Oil
For stuffing:
70 Gram Ricotta Cheese
20 Gram Walnut
Salt
For topping:
25 Ml Mint chutney
30 Ml Tamarind Date chutney
60 Ml Dahi, sweet
For garnishing:
Pomegranate
Potato salli
1.
Wash and soak urad dal in water for 30-40 minutes.
2.
Drain the water out and then grind the urad dal in a mixy to a smooth batter adding the measured quantity of water a little at a time.
3.
Transfer the batter into a large bowl and beat the batter in a circular direction with your hand for 5 minutes to incorporate air into the batter and making it fluffy.
4.
Now add salt to taste, and mix lightly. Do not rest long after adding salt, as it leaves water and makes batter watery.
5.
Now dip your hand in water, and start make small sized vadas, stuffed with ricotta and walnut mixture.
6.
Drop them one by one in the hot oil.
7.
Keep the flame on medium heat and stir the vadas occasionally.
8.
Fry the vadas till they turn golden brown.
9.
Drain the oil off the vadas by placing them on a kitchen towel
10.
Immediately after, drop the vadas into a bowl of lukewarm salted water and allow the vadas to be immersed completely.
11.
Allow them to soak them for 5 minutes and absorb the water.
12.
Now take the vadas out of bowl the and squeeze out the extra water by squeezing it between the palms of your hand.
13.
Place 3-4 vadas on the serving plate.
14.
Pour 3- 4 tablespoons of thick whisked curd over the vadas.
15.
Drizzle some green chutney and tamarind chutney over the curd.
16.
Garnish with few coriander leaves, pomegranate seeds and potato salli.