Story Progress
Back to home
Roasted Aubergine Dip Recipe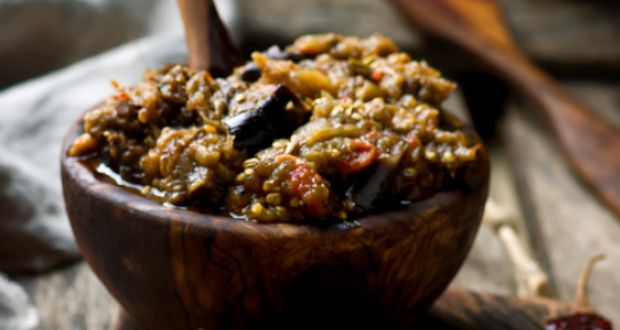 How to make Roasted Aubergine Dip
About Roasted Aubergine Dip Recipe: A dip that is hearty and full of flavours. This dip recipe is simple and fast, use it as a starter or for a dip with salads.

Ingredients of Roasted Aubergine Dip
1 onion, finely chopped
3 Garlic cloves , finely chopped
1 Green chili, finely chopped
Olive oil
1 Aubergine, roasted
1 tsp coriander seeds
1 tsp chilli powder
1 Lemon
Fresh coriander leaves, chopped
100 gms curd
1 Cucumber
to taste Salt and pepper
1.
Heat the pan and add 6 tsp of olive oil and add garlic, onion and green chilli. Then season it with salt.
2.
Take a roasted aubergine and scope out some of its flesh. Peel off the skin and chop the aubergine.
3.
Add the aubergine to the pan and season with salt and coriander seeds.
5.
Add chilli powder and let it cook for some time.
6.
Finish it off with juice of 1/2 lime and let the mixture cool down.
7.
Then in a bowl add some coriander leaves & curd and mix it.
8.
Add aubergine mixture to it and mix it all well.
9.
Cut 1 cucumber in halves and de-seed it.
10.
Fill the cucumber boat with aubergine dip.