Story Progress
Back to home
Aubergine and Green Chili Salan Recipe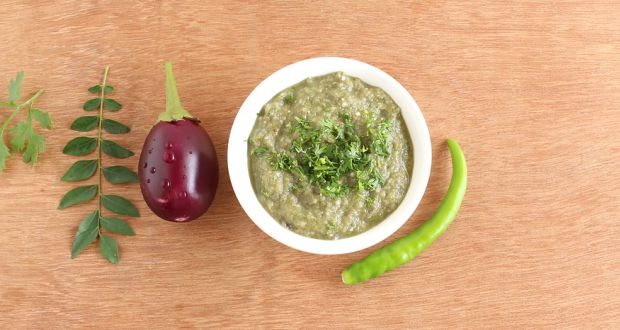 How to make Aubergine and Green Chili Salan
About Aubergine and Green Chili Salan Reecipe: A twist to the Hyderabadi mirchi ka salan. This one is made with aubergines, coconut, peanuts and poppy seeds. Serve with your favourite biryani or any rice dish at the next meal for your family and friends.

Ingredients of Aubergine and Green Chili Salan
2 1/2 Tbsp peanuts
6 aubergines (slit till the stem)
5 green chillies (halved)
1 tsp red chilli powder
1 onion, julienne
1 tsp turmeric powder
1 tsp fennel seeds
1 tsp black pepper
1/2 tsp coriander seeds
Coriander
1/4 coconut, grated
2 tsp poppy seeds
Onions
7 Cloves
1/2 tsp cumin seeds
1 inch ginger cut
9 Garlic cloves (bashed)
5 tbsp oil
1/2 glass of water
1 Lemon (squeezed)
For the kachumbar salad:
1 Cucumber, chopped
1 Tomato, chopped
1 Radish, chopped
1/2 Onion, finely chopped
1/2 tsp red chilli powder
Salt (to flavour)
1 Lemon (juiced)
Handful of coriander leaves
1.
Heat up the pan and drizzle it with oil.
2.
Add ginger, garlic, green chillies, julienne onion, grated coconut, peanuts, turmeric, red chilli powder and salt to taste.
3.
Heat up another pan and drizzle it with oil.
4.
Add black pepper, clove, cumin, fennel seeds, coriander, and poppy seeds
5.
Now add all these to the 1st pan, saute it for 5 minutes, let it cool and then grind it. This is the salan paste.
6.
Heat up the pan, drizzle oil and shallow fry the aubergines.
7.
Heat up another pan and drizzle with oil.
8.
Add salan paste, salt, tamarind extract, water and fried aubergines.
9.
Split 6 green chillies and add them to salan.
11.
Add lemon juice to finish it off.
Prepare Kachumbar salad:
1.
Mix all the chopped vegetables and serve with the salan.