Story Progress
Back to home
Roesti and Salad Recipe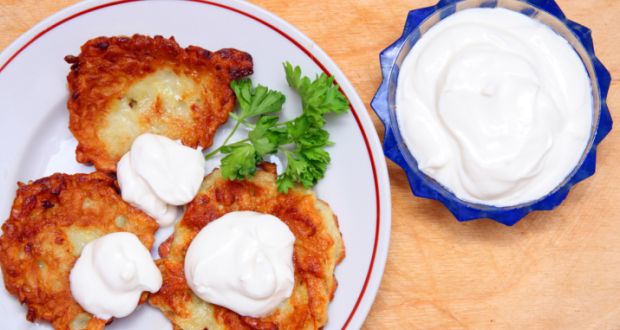 Crispy creamy potato cakes topped with the freshness of salad. The perfect recipe for a lazy Sunday brunch!

Ingredients of Roesti and Salad
1 kg potatoes-peeled
3 Tbsp salad oil
2 Tbsp finely chopped spring onions
Salt, pepper
25 gm butter
For the salad:
150 gm mixed salad leaves
100 gm carrots cut into juliennes
1 small lauki cut into strips
3-4 nasturtium leaves
2 tsp chopped garden herbs
1 Tbsp basil leaves (optional)
For the dressing:
3 Tbsp olive/salad oil
1 and 1/2 Tbsp lemon juice
1/2 tsp prepared mustard
1/2 tsp chopped garlic
Salt, pepper
1.
1. Partially cook the potatoes in boiling, salted water for 8 minutes. Drain and allow it to cool.
2.
2. Heat 1 Tbsp oil in a frying pan. Add the onion and cook gently for 1 minute.
3.
3. Coarsely grate the potatoes, add the onion, season and mix well. Divide the potato mixture into 4 portions.
4.
4. Heat 1/2 Tbsp of olive oil. Add 1 tsp butter in the frying pan until hot and sizzling. Add a potato portion to the pan, flatten and cook until golden in color.
5.
5. To serve, place the roesti on a serving plate. Whisk together the dressing ingredients, toss into the salad and pile onto the roesti.