Story Progress
Back to home
Sea Bream with Three Seed Crunch, Warm Potato Salad and Wilted Spinach Recipe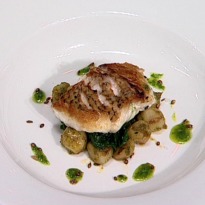 Beautifully cooked fish served on a bed of potato salad and spinach.

Ingredients of Sea Bream with Three Seed Crunch, Warm Potato Salad and Wilted Spinach
For the Fish:
1/2 tsp fennel seeds
1 tsp coriander seeds
1 tsp cumin seeds
4 tbsp light olive oil
2 fillets of bream, skin on (or good firm fleshed white Indian fish)
For the Potato Salad:
450g small potatoes cubed and cooked
4 heaped tablespoons fresh coriander
25g/1oz each picked flat leaf parsley
1 tbsp bhuna masala
Juice of a lemon
4 tbsp extra virgin olive oil
For the Spinach
1 tbsp ghee
1 tsp ginger paste
1 tsp garlic paste
200g baby spinach
Sea salt and freshly ground black pepper
How to Make Sea Bream with Three Seed Crunch, Warm Potato Salad and Wilted Spinach
Hide

Show

Media
1.
Heat three tablespoons of the light olive oil in a pan with the fennel, coriander and cumin seeds. Fry for about a minute then pour through a sieve reserving the oil. Drain the crispy seeds really well on kitchen paper.
2.
Pour boiling water over the parsley leaves and allow to stand for two minutes. Then drain and run under cold water until completely cooled.
3.
Heat one tablespoon of oil into a large non-stick pan add the bhuna masala. Heat through very quickly then tip the potatoes into a pan and toss really well. Tip into a large bowl and allow cooling a little.
4.
In a small mixer or with a hand blender, blend the blanched leaves with two tablespoons of the olive oil and the fresh coriander. Then whisk in the lemon juice and season well with salt and black pepper. Fold two thirds of this dressing into your warm potatoes and set aside. Keep the remaining oil for presentation.
5.
Meanwhile heat a heavy-based frying for your fish. Add the remaining light olive oil to the pan. Season the fish with salt & pepper and when the pan is nice & hot place the fish in skin side down. Cook for 2-3 minutes until the skin is really crisp then turn over and remove from the heat. Allow the fish to finishing cooking in the residual heat.
6.
Heat a pan for your spinach add the ghee and allow to heat up. Add the ginger & garlic paste and stir then tip in your spinach and cook for 2 minutes until just wilted through. Drain through a sieve to remove any excess liquid before serving.
7.
Mix your crispy seeds with some sea salt flakes.
8.
To serve, place the warm potato salad in the centre of two warmed plates, top each with a some spinach then a piece of cooked fish, finish with a sprinkling of crispy seeds. Finish with a drizzle of the herb oil.