Story Progress
Back to home
Sev ki Sabji Recipe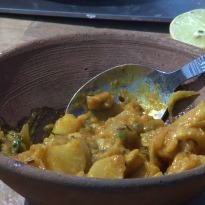 How to make Sev ki Sabji
About Sev ki Sabji Recipe: A delicious take on the famous Sev ki sabzi. Potatoes, radish cooked with yogurt, aromatic spices and moti sev.

Ingredients of Sev ki Sabji
1/2 Cup Ghee
1 tsp Cumin seeds
2 medium Onions, julienne
1/2 inch Ginger, chopped
2 Green chilies, chopped
1 tsp Turmeric powder
1 1/2 tsp Red chili powder
1 1/2 tsp Coriander powder
2 large Potatoes (diced into cubes)
1 large Daikon radish, (diced into cubes)
4 tsp Fresh yogurt
1 cup Moti sev, large
1 cup Water
1 Lime
Handful Fresh coriander, chopped
to taste Salt
1.
Crackle the cumin seeds in hot ghee, add in the onions and saute for two minutes.
2.
Add in the ginger and the green chilies, fry together with the onions for 5-7 minutes on a medium flame.
3.
Mix in the turmeric powder, the red chilli powder, and coriander powder.
4.
Deglaze the pan with a little water, Add salt and let the masala cook uncovered, on medium heat, for 7-8 minutes.
5.
Add in the diced potatoes and radish, mix well.
6.
Add half a cup of water, cover and let cook on a low flame for 15 minutes or till the vegetables are tender.
7.
Stir in the fresh yoghurt, and continue cooking on a medium flame for 2 minutes.
8.
Add in the moti sev, stir well to coat the sev with the masala.
9.
Add in 3/4th of a cup of water, and let the sev ki sabji cook uncovered for 5-7 minutes.
10.
Garnish with fresh coriander, and the juice of a lime.