Story Progress
Back to home
Shashlik-e-Gobhi Recipe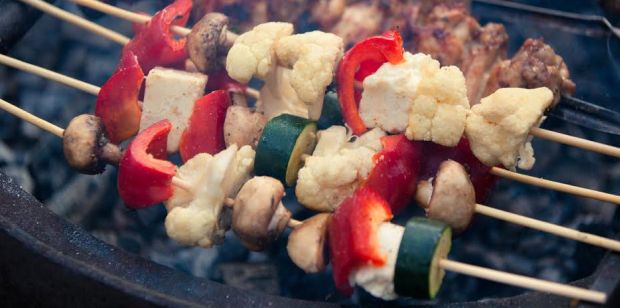 Tomato, onion and capsicum and marinated cauliflower placed in a skewer and grilled.

Ingredients of Shashlik-e-Gobhi
Oven Temp: 450 F- 220 C
750 gm cauliflower-broken into florets
1 Tbsp garlic paste
1 Tbsp ginger paste
1 cup vinegar
Chilli powder to taste
1 tsp garam masala
1 tbsp coriander seeds
1 tsp salt or to taste
2-3 capsicums
2 onions
3-4 tomatoes
Skewers
Oil to brush
chaat masala to garnish
1.
Marinate the florets in the garlic, ginger, vinegar, chilli powder, black pepper, powdered ingredients and salt. Leave for 3-6 hours or overnight.
2.
Cut the capsicums, onions and tomatoes to match the florets.
3.
Thread a piece of tomato, onion and capsicum into the skewer, follow with a floret.
4.
Repeat till all the pieces are taken care of.
5.
Pour whatever juices there may be over the prepared shashlik and place over a drip tray.
6.
Brush with oil. Bake in a preheated oven 15-20 minutes, till the vegetables are bite-like, or over a barbecue pit, or a grill.
7.
Brush again with a little oil when almost done.
8.
Serve hot by itself or over a bed of boiled rice.