Story Progress
Back to home
Skewered Pork in Lemon Grass Recipe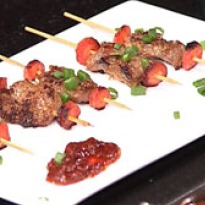 Pork marinated in oriental flavors, skewered and grilled. Topped with peanuts and served with rice.

Ingredients of Skewered Pork in Lemon Grass
1/4 cup fish sauce
1 Tbsp soy sauce
3 Tbsp sugar
2 Tbsp vegetable oil
2 stalks lemongrass
1 large shallot - finely chopped
2 large cloves garlic - finely chopped
1 pound pork tenderloin - thinly sliced
16 bamboo skewers - soaked for 20 minutes and drained
1 rice vermicelli: Bun Thit
1/2 cup chopped unsalted roasted peanuts
Nuoc cham - as needed
1.
Stir together the fish sauce, soy sauce, sugar, and oil until the sugar is completely dissolved.
2.
Add the lemongrass, shallot, garlic and pork and mix to coat the meat evenly.
3.
Allow to marinate at room temperature for 20 minutes.
4.
Slide 2 to 4 slices of pork onto each skewer so the meat is flat with the skewer going through the slices several times. Grill over a barbecue.
5.
Alternatively, heat a well-oiled grill pan over high heat and, working in batches, cook the skewers until the edges crisp, about 1 minute per side.
6.
Remove the skewers from the grilled pork.
7.
Divide the grilled pork among the bowls of rice vermicelli.
8.
Sprinkle peanuts and drizzle nuoc cham over each serving. Serve immediately.