Story Progress
Back to home
Sloppy Joes Recipe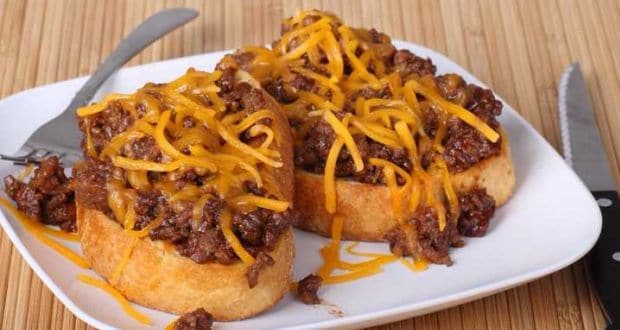 How to make Sloppy Joes
About Sloppy Joes Recipe: Crusty bread topped with a delicious lamb mince, roasted eggplants and cheddar cheese. Combine this with a beer or some fizzy drink and you're sorted.

Ingredients of Sloppy Joes
1 crusty bread loaf or 2-3 slices white bread
2 tbsp cheddar cheese
For the mince:
1 onion
3 garlic cloves
1 green chilli
1 tbsp oil
200 gms lamb mince (keema)
1 tsp zeera powder
1 tsp rosemary
to taste salt
1/4 cup red wine
1 cup tomato juice
1 potato (mashed), boiled
coriander leaves, chopped
1 tomato, chopped
For the eggplants:
3 baby eggplants
1 tsp zeera powder
1 tsp oil
A pinch of salt
Prepare the eggplants:
1.
Slice the baby eggplants. Place them on a baking tray.
2.
Drizzle some oil, zeera powder and salt.
3.
Bake for 7-10minutes at 200 degrees C.
Prepare the mince:
1.
In a blender make a fine paste of the onion, ginger, garlic and green chilli.
2.
In a pan add oil, the onion mixture. Saute till onions start to turn pink.
3.
Add the lamb mince. Cook till meat starts turning brown. Add zeera powder, rosemary & salt.
4.
Add some red wine and tomato juice. Let it reduce.
5.
Add the boiled potato, the baked eggplants, coriander and tomato.
Plating up:
1.
On a baking tray place 1/2 a loaf of bread (slit lengthwise).
2.
Drizzle some olive oil on it. Add the mince on it and sprinkle some cheddar cheese.
3.
Bake for 10-15 minutes or till the cheese melts at 180-200 degree C.