Story Progress
Back to home
Smoked Beetroot and Tangerine with Asparagus Salad Recipe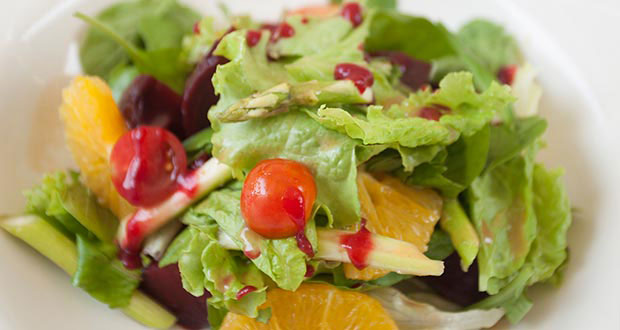 The beetroot not only absorbs the warmth of the whole spices but also manages to have a depth in taste after being smoked. This with the freshness of the asparagus salad and saltiness of the Feta is absolutely mesmerizing. The guava emulsion completes the dish, making it a perfect restaurant quality preparation.

Ingredients of Smoked Beetroot and Tangerine with Asparagus Salad
Ingredients:
For the Beetroot :
2 beetroot
300ml of orange juice
1 star anise
5gm of coriander seeds
30ml of balsamic vinegar
For the Guava Emulsion:
100 ml of guava juice
1 star anise
10gm of cinnamon
50ml of synthetic vinegar
To assemble :
100gm of arugula
one orange for orange slices
10gm of roasted walnuts
50gm of feta
How to Make Smoked Beetroot and Tangerine with Asparagus Salad
Hide

Show

Media
For the Beetroot :
1.
1. Peel the Beetroot and cut into wedges
2.
2. In a deep pan combine orange juice with star anise and coriander seeds along with
4.
3. Put the pan in the oven and bake for 15 min till the beetroot is soft
6.
5. Once cool Smoke the beetroot for 15 min
7.
6. Use the rest of the liquid as dressing to drizzle on top of the salad
For the guava emulsion :
1.
1.Combine all the ingredients and simmer in a heavy based pan till it becomes syrupy.
For Assemble :
1.
1. On a chilled plate, arrange the Smoked Beetroot and Orange alternatively
2.
2. Drizzle some of the dressing
3.
3. Place Arugula on top.Drizzle some dressing in the Arugula as well
5.
5. Drizzle some of the guava emulsion
6.
6. Serve chilled immediately