Story Progress
Back to home
Soorkh Murgh Recipe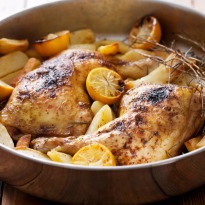 Chicken rubbed with nutmeg, then seared and cooked with potatoes and chillies.

Ingredients of Soorkh Murgh
1 whole chicken (broiler)
1 jaiphal (nutmeg) - powdered
2 tsp salt
2 tsp chilli powder
2 medium potatoes cut into 2 pieces each
1/4 cup ghee
2-3 whole red chillies
2 Tbsp chopped coriander leaves for garnish
1.
Apply the nutmeg on to the chicken, inside out, and keep thus for 1 hour.
2.
Wash the chicken and keep to drain out the water.
3.
Wipe dry and refrigerate uncovered for about 1/2 an hour.
4.
Mix the salt with the chilli powder and apply it all over the chicken.
5.
Heat the ghee in a deep kadahi or pan and quick fry the potatoes and the whole red peppers. Lift out and keep aside.
6.
Add the chicken to the same ghee and keeping the heat high turn it around for it to get seared all around.
7.
Lower the heat, add the potatoes and cover.
8.
Let it cook till the chicken and the potatoes are tender, turning around every 10 minutes. Takes about 30 minutes.
9.
Alternatively, after searing you can cook it covered, in an oven (320 F-160 C) for the same time.
10.
Serve garnished with the red peppers and the coriander leaves.