Story Progress
Back to home
Spaghetti Meatballs Recipe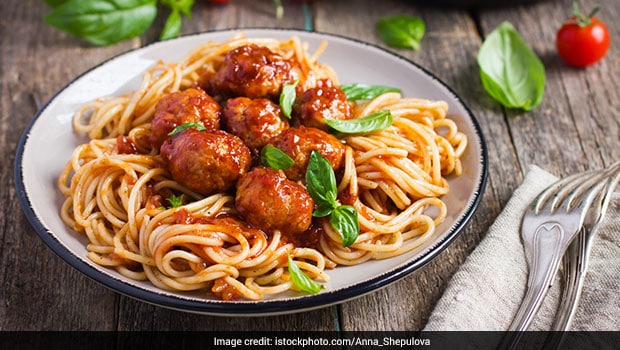 How to make Spaghetti Meatballs
About Spaghetti Meatballs Recipe : Tasty, juicy and uber tender meatballs to satiate your taste buds. Succulent lamb meatballs and simple tomato sauce with spaghetti makes for this delicious Spaghetti Meatballs a must have. It is an Italian classic dish that would be just perfect as a starter dish at your next dinner party!
Total Cook Time

1 hr 30 mins

Ingredients of Spaghetti Meatballs
3 Cups Spaghetti (cooked according to packet instructions)
For the Meat Balls:
300 Gram Lamb (minced)
1 Bread slice (soaked in milk)
1/2 Onion
Few leaves Parsley
Few leaves Thyme
Few leaves Rosemary
3 Garlic Cloves
Parmesan Cheese
To taste Salt
To pan sear the meatballs Olive oil
For Spaghetti Sauce:
2 Tbsp Olive oil
1 Bay leaf
1 Medium Onion, chopped
2-3 Garlic Cloves (minced)
3 Cups Tomato Puree
1 Cup Tomato Juice
1 Bunch Oregano
3-5 Basil leaves
1 tsp Rosemary
A pinch of Sugar (to balance the acidity)
To taste Salt & Pepper
Prepare the Meat balls:
1.
In a food processor mix the onions, garlic, parsley, thyme and rosemary.
2.
In a bowl mix the milk soaked bread with the minced meat, salt and the ground onion-herb mixture.
3.
Make a soft yet firm mix. Wet your palm and shape into 15-20 meat balls.
4.
Add some oil in a pan, sear the meat balls.
5.
Add these to the simmering tomato sauce.
Prepare tomato sauce:
1.
Heat some olive oil in the pan, add the bay leaf, onions and garlic.
2.
Add the tomato juice and puree.
3.
Add the oregano, rosemary and basil and cook for about 20 minutes.
4.
Season with salt and pepper. Add a pinch of sugar.
5.
Add the seared meatballs and simmer for 20 minutes.
6.
Serve with boiled spaghetti.