Story Progress
Back to home
Spanish Artichoke And Spinach Dip Recipe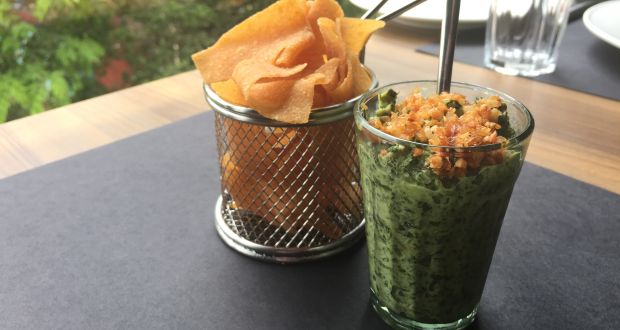 How to make Spanish Artichoke And Spinach Dip
About Spanish Artichoke And Spinach Dip Recipe: This easy spinach dips is warm and gooey, unlike your regular accompaniments. Serve with freshly baked tortilla chips.

Ingredients of Spanish Artichoke And Spinach Dip
200 Gram spinach
1 medium onion
1/2 cup cream
25 gram garlic, chopped
A pinch of nutmeg
to taste salt
1 tsp lime Juice
1 cup artichoke hearts (cubed)
For Tortilla Chips:
25 gram polenta
20 gram refined flour
A pinch of salt
1/2 cup water
For Bechamel Sauce:
2 tbsp butter
2 tbsp flour
1 1/4 cups milk (heated)
to taste salt
to taste pepper (freshly ground)
1.
Take fresh spinach and blanch in hot water then soak it in chilled water for 5-7 minutes.
2.
Squeeze and drain all the water from the spinach.
3.
Take one medium sized onion and chop finely.
4.
Add chopped garlic and toss in olive oil on high flame.
5.
Add bechamel sauce & fresh cream to the pan.
6.
Add nutmeg and salt to taste. Let the mixture cool down and put in blender and grind for desired consistency.
7.
Return the mix to the pan, add lime-juice and cubed artichoke hearts. Add burnt garlic for garnish. Serve warm.
Prepare Tortilla Chips:
1.
Take polenta, refined flour and a pinch of salt along with half a cup of water and knead until mixed well.
2.
Roll with a rolling pin until thin. Cut the tortilla sheet into triangular shapes.
Prepare Bechamel Sauce:
1.
Melt butter in a saucepan over medium heat.
2.
Add flour, cook, stirring, with a wooden spoon, for 1 to 2 minutes or until mixture bubbles.
3.
Gradually stir in milk and bring it to boil.
4.
Reduce heat to medium. Cook, stirring, for 4 to 5 minutes or until mixture thickens.