Story Progress
Back to home
Bell Pepper and Bean Dip Recipe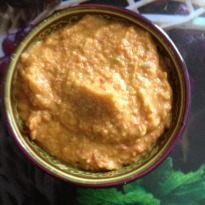 An innovative dip made with grilled bell peppers, garbanzo beans, chillies and garlic. Serve with freshly cut vegetables, pita bread or crackers.

Ingredients of Bell Pepper and Bean Dip
1 bell pepper (213gm)
5 garlic cloves (22gm)
7 Thai chillies (9gm)- Optional
15 Oz. cooked garbanzo beans/ chickpeas (425gm)
2 1/2 Tbsp lemon
1 tsp salt
1/4th cup olive oil
1.
Wash and grill the bell pepper.
2.
In a blender add all the ingredients together. Give it a whiz. Please note that the lemon, garlic, Thai chillies and salt may vary according to your taste.
3.
Dip or spread on pita bread, whole-wheat crackers, trader Joe's savory thin mini edamame crackers, celery, carrots and cucumbers.