Story Progress
Back to home
Spiced Spinach Soup with Cottage Cheese Croutons Recipe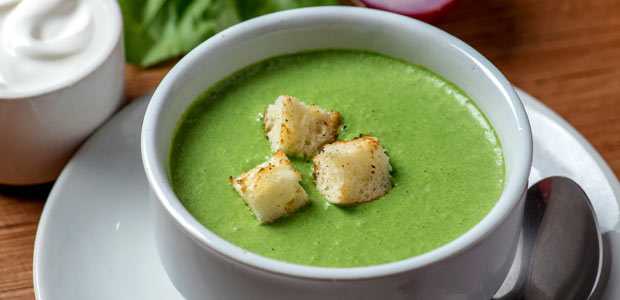 How to make Spiced Spinach Soup with Cottage Cheese Croutons
The good old spinach soup with an aromatic tempering and chaat masala flavored cottage cheese croutons.
Total Cook Time

50 mins 10 seconds

Prep Time

10 mins 10 seconds

Ingredients of Spiced Spinach Soup with Cottage Cheese Croutons
1 Tbsp Mustard oil
1 medium White onion, chopped
1 bulb Fennel
1/2 tsp Ginger (minced)
6-7 Curry leaves
1/2 tsp Turmeric powder
1 tsp Mustard seeds
1 Green chilly, chopped
1 cup Red lentils, blanched
1 litre Vegetable stock
1 bunch Sorrel or khatta leaves, small
1 bunch Spinach, large
1 bunch Dill leaves, small
1/2 cup Methi/fenugreek leaves
1 tbsp Fresh coriander leaves, chopped
1 bunch Methi/fenugreek sprouts
1/2 cup Cottage cheese (cubed and roasted in the oven with a pinch of chaat masala)
How to Make Spiced Spinach Soup with Cottage Cheese Croutons
Hide

Show

Media
1.
Heat up some mustard oil to smoking point, splash a few drops of salted water to get the mustard oil in true form to cook. It takes away a lot of the strong flavors n bitterness of the oil.
2.
Add the mustard seeds, green chillies, ginger, mustard seeds as they crackle, add the turmeric powder followed by curry leaves and chopped onion and chopped fennel.
3.
This is an aromatic tempering for the soup.
4.
Cut the cottage cheese into cubes. Put in a tray and season with garam masala, salt, pepper and olive oil. Bake in the oven for 15-20 minutes at 180 C.
5.
Add the soaked lentils and the vegetable stock and simmer for 12 to 15 minutes till the lentils and the veggies are soft.
6.
You can then add the washed and chopped spinach, dill and methi.
7.
Season to taste and simmer for not more than a minute or so.
8.
Once it is cooked add some ice and blend into a chilled soup.
9.
Ladle the hearty soup into large bowls/glasses and serve with crispy chaat masala flavored cottage cheese croutons.