Story Progress
Back to home
Spicy Maguro Maki Recipe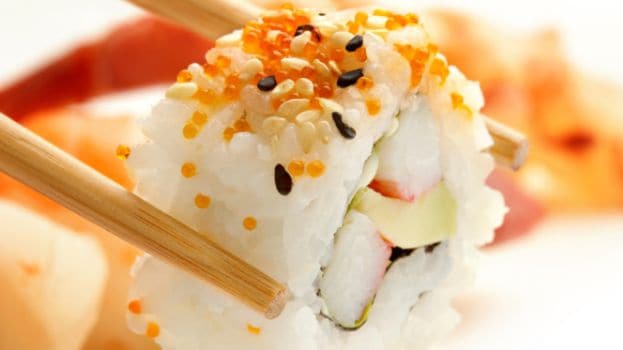 Yaki-nori sheet wrapped with rice, spicy sauce and tuna, served with wasabi and soya sauce.
Total Cook Time

45 mins 30 seconds

Cook Time

30 mins 30 seconds

Ingredients of Spicy Maguro Maki
50 gm tuna-grilled and diced
1 sheet of yaki-nori or roasted seaweeds
1/4 cup short grain Japanese rice-cooked and mixed with vinegar, sugar and kombu seaweed
1 tsp chopped spring onion
1 tsp spicy sauce
Condiments
2 tsp marinated ginger
1 tsp wasabi
1 tsp soya sauce
1.
Place yaki-nori sheet on the bamboo mat and cover it with the rice.
2.
Sprinkle the spring onion on top.
3.
Now, pick it by the corners and quickly turn it over, so as to place it upside down.
4.
Spread spicy sauce over it and then add tuna.
5.
Lift the edges of the bamboo mat and roll it back and forth to seal the edges of yaki-nori.
6.
Finally, slice the prepared roll into equal sizes and serve with wasabi and soya sauce.