Story Progress
Back to home
Spinach Crostini Recipe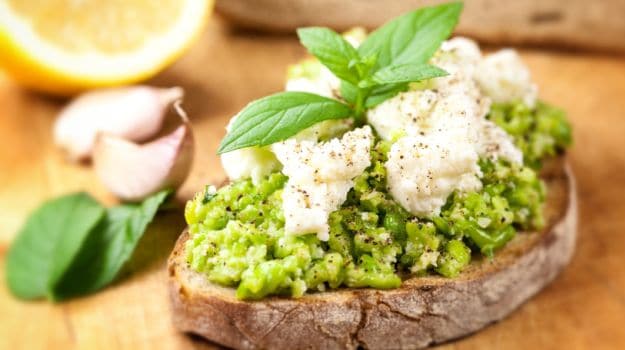 How to make Spinach Crostini
Grilled crisp, bread slices are smeared with hummus, topped with red pepper jam and cabbage slaw, served with onion rings.
Total Cook Time

1 hr 25 mins

Ingredients of Spinach Crostini
1 loaf multigrain bread
For the spinach hummus:
1 cup cooked chick peas
1/2 chopped onion
2 cloves garlic
1/2 tsp cumin powder
Juice of 1/2 a lime
1 Tbsp tahini
1 big bunch of spinach leaves
2-3 Tbsp olive oil
Salt and pepper to season
1 pinch sumac
For red cabbage slaw:
1/2 red cabbage
1/3 white cabbage
1 pear
1 Tbsp apple vinegar
1 tsp brown sugar
60 ml pineapple juice
6-7 jalapenos with its juice
1 1/2 Tbsp egg less mayonnaise
1 spring onions
Few leaves parsley
Salt and pepper to season
For the shoestring onions:
3 red onions
1 tsp sumac
1 big pinch smoked paprika
1 big pinch zatar spice
1 pinch curry powder
Black pepper to season
2-3 Tbsp corn starch
3-4 Tbsp oil for frying
For the bell pepper jam:
2 roasted red peppers
1 onion chopped
1 Tbsp olive oil
1/2 stick of cinnamon
1 star anise
1 1/2 tsp brown sugar
1 1/2 tsp sugar
1 1/2 tsp balsamic vinegar
Few leaves of basil
Juice of 1/2 a lime
For the spinach hummus:
1.
Blanch spinach in hot water for 10 seconds and immediately put in cold water.
2.
In a mixer add chickpeas, garlic, tahini, chopped onion, olive oil, lemon juice, cumin powder,
3.
blanched spinach and salt and blend into a nice paste.
For the red cabbage slaw:
1.
Slice the white and red cabbage into thin slices along with one pear.
2.
Mix it all together in a bowl.
3.
Marinate with apple vinegar, brown sugar and pineapple juice.
4.
Season with salt and refrigerate for a few minutes.
5.
Squeeze the cabbage and put in the jalapenos, chopped spring onion and mayonnaise.
6.
Mix it well so the cabbage is nicely mixed with the dressing.
For the shoestring onions:
1.
Thinly slice the onions into rings.
2.
Make a spice dust with zatar, sumac, paprika and curry powder.
3.
Mix the onions in the spice mix and cornstarch and deep fry till golden brown and crispy.
4.
Drain out the excess oil on kitchen paper.
For the bell pepper jam:
1.
Roast bell peppers in an oven for 15 minutes with some salt pepper and olive oil.
2.
Discard the seeds and peel the peppers.
4.
Cut the red peppers into strips.
5.
Put a touch of olive oil in a pan.
6.
Saute onions in a hot pan with olive oil, add a cinnamon stick, star anise, brown sugar,
7.
balsamic vinegar, chopped basil leaves and let it cook together until syrupy.
8.
Slice the bread, brush with olive oil and grill or toast to a crisp.
9.
Spread the hummus on the bread and then top with the red pepper jam.
10.
Top with the cabbage slaw.
11.
Serve with a side of the onion rings.