Story Progress
Back to home
Spinach & Mushroom Cannelloni Recipe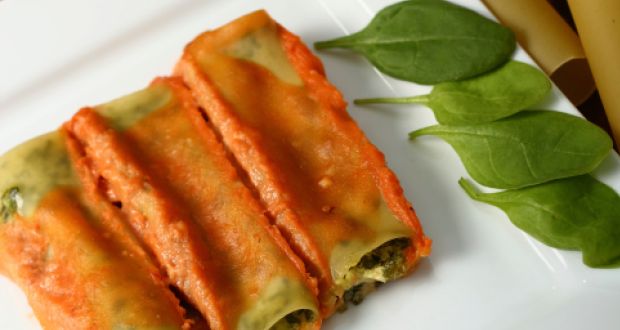 How to make Spinach & Mushroom Cannelloni
About Spinach & Mushroom Cannelloni recipe: Warm up with this hearty spinach and ricotta cannelloni dish. It's a combination of mushrooms, cheese and cannelloni shells.
Total Cook Time

1 hr 10 mins

Ingredients of Spinach & Mushroom Cannelloni
13 Cannelloni shells
Parmesan cheese, grated
Handful of basil leaves
to taste salt and pepper
1 tbsp extra virgin olive oil
Filling for cannelloni:
Olive oil
4 Onions, julienne
1 packet mushrooms , finely chopped
5 bunch spinach, blanched
to taste salt and pepper
1/4 cup parmesan cheese, grated
1 tbsp butter
Passata sauce:
2 onions , finely chopped
1 1/2 kg tomato puree
2 tbsp sugar
1 1/2 tsp chili flakes
to taste salt and pepper
Handful of sasil leaves, chopped
Prepare the filling:
1.
Heat up a pan and drop 1 Tbsp olive oil.
2.
Add the onions and saute them on medium heat, until they are light golden and season with salt.
3.
Add the mushrooms, salt & pepper and saute. Squeeze out the excess water from the spinach and chop them finely.
4.
Add them to the pan and combine it with onions and mushrooms. Season it with pepper and let it shimmer away.
5.
Plate the dish and add Parmesan cheese & butter to garnish.
Prepare the passata sauce:
1.
Heat up a saucepan and add the onions to it. Once onions are light brown, add tomato puree. Season with sugar, chili flakes, salt & pepper.
2.
Sprinkle basil & let the tomatoes cook out for about 15 minutes.
Final preparation:
1.
Pre-heat the oven at 180 degree. Stuff the cannelloni shells with the filling and place on a baking dish. Pour over pasata, just enough to cover the cannelloni shells. Spread some Parmesan cheese & scatter some fresh basil leaves.
2.
Season it with pepper and extra virgin olive oil to moisten everything. Place the dish in the oven for about 25 minutes.
3.
While serving drizzle a touch of olive oil and some grated Parmesan cheese.