Story Progress
Back to home
Strawberry & Pistachio Breton Tart Recipe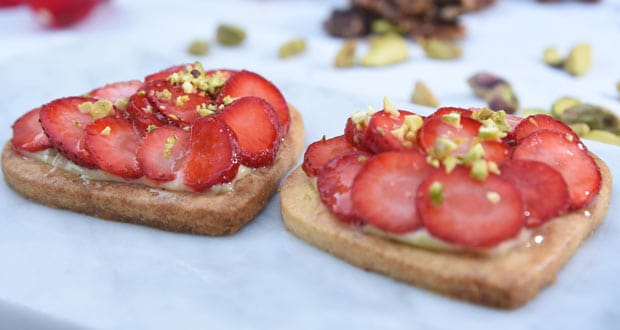 How to make Strawberry & Pistachio Breton Tart
Juicy strawberries curled up on creamy and nutty bretons, desserts just got more exotic. Let's celebrate the season of love with with this delicious combination of fruits, cream and everything nutty! Bake these beautifully crafted tarts at home to make your loved one drool over and relish it together on the day of love.
Total Cook Time

1 hr 50 mins

Ingredients of Strawberry & Pistachio Breton Tart
For Sable Breton:
250 gram Plain flour
8 gram Baking powder
2 gram Sea salt
190 gram Unsalted butter
75 gram Egg yoks
160 gram Castor sugar
For Pistachio Creamaux:
100 ml Double cream
25 gram Yolk
18 gram Sugar
1 gram Gelatine
20 gram Butter
12 gram Pistachio paste
250 gram Strawberry
1.
Sift flour, salt & baking powder.
2.
Put butter in mixing bowl and beat until smooth.
3.
Put egg yolks and sugar in a separate bowl and whisk until light in colour
4.
Add the softened butter to eggs and mix together until fully incorporated.
5.
Fold in the sifted dry ingredients.
6.
Mix together to form a dough.
7.
Roll out the dough between two sheets of silicone sheet to desired thickness , then put it in the fridge to rest for 3 hours.
8.
Cut in the the heart shape with the ring & bake for 15 mins at 170 C.
9.
Bring cream and pistachio paste to boil.
10.
Beat together eggs & sugar and soak gelatine in cold water.
11.
Temper egg mixture with hot cream.
12.
Cook out on the stove & remove from heat.
13.
Incorporate butter with hand blender and blast chill.
14.
Apply a layer of pistachio cremeaux over heart shaped breton.
15.
Arrange strawberries and glaze it.
16.
Garnish with pistachio nuts & chocolate curls.