Story Progress
Back to home
Stuffed Karela with Cheese Recipe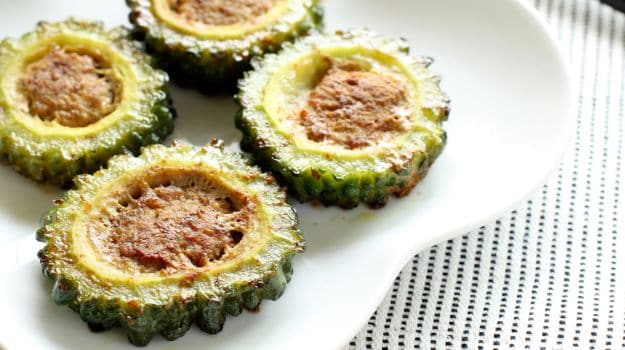 How to make Stuffed Karela with Cheese
About Stuffed Karela with Cheese Recipe: Bitter gourd (karela) in your vegetable basket -- does it sound like a turn off? Let us help you fall in love with this usually despised vegetable. Sliced karelas stuffed with an aromatic filling, rolled in spices and pan fried.

Ingredients of Stuffed Karela with Cheese
3-4 Tbsp olive oil
3 medium karelas
1 medium onion, sliced
1/2 yellow bell pepper (finely diced)
1 small broccoli head, finely chopped
1/2 tomato (finely diced)
1/2 tsp brown sugar
4-5 basil leaves
A pinch of cinnamon powder
A pinch of clove powder
A pinch of red chillii flakes
A dash of balsamic vinegar
50-60 gms emmental cheese, grated (You can use normal cheese also)
Spice dust / coating:
2 1/2 tbsp besan (gram flour)
2 1/2 tbsp corn flour
1 tsp onion powder
1/2 tsp garlic powder
1 tsp jeera powder
1.
Peel and cut the karelas lengthwise in half, scoop out the seeds and inner flesh.
2.
Sprinkle them with salt to release the moisture.
3.
Drain the excess water and keep the karelas pressed under a heavy weight, overnight or for 3-4 hours.
Prepare the filling:
1.
Heat 2 tablespoons of oil in a pan and saute the onion, bell pepper, broccoli for about 30 seconds.
2.
Mix in the tomato, salt, basil leaves, cinnamon powder, clove powder, brown sugar, balsamic vinegar and red chilli flakes.
3.
Cook for for another 40 seconds approx and remove from the stove.
Prepare the spice dust:
1.
In a big dry plate, mix the besan, corn flour, onion powder, garlic powder and jeera powder together
Prepare the karelas:
1.
Stuff the karela halves with the filling and grated cheese.
2.
Close both half tightly and roll them in this spice dust
3.
Heat enough oil to pan fry the karelas for 3-4 minutes on each side.
4.
Cut into cubes and serve hot.