Story Progress
Back to home
Karela Dahiwala Recipe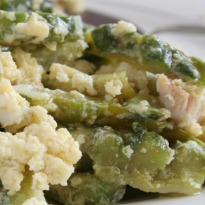 How to make Karela Dahiwala
A toss up of bitter gourd rounds, curd and spices.

Ingredients of Karela Dahiwala
6-8 karelas
Salt to taste
1/2 cup hung curd
1/2 tsp turmeric
1/2 tsp ginger powder
1 Tbsp coriander powder
1/2 tsp chilli powder
1 tsp roasted cumin
1/8 tsp asafoetida
1 tsp fennel seeds-roasted and coarsely pounded
1/2 tsp fenugreek seeds-roasted and coarsely pounded
1/4 cup mustard oil
1.
Scrape off the rough surface of the bitter gourd; chop into rounds, rub all over with 1 Tbsp salt and keep aside for about 30 minutes.
2.
Mix in the yogurt, turmeric, ginger powder, chilli powder, roasted cumin, asafoetida, fennel seeds and fenugreek seeds.
3.
Squeeze the bitter gourd to remove the bitter juice.
4.
In a pan, heat oil and add spice mix.
5.
Add the bitter gourd. Mix all well.
6.
Turn over a few times on high flame.
7.
Reduce heat and cook them covered, till tender, stirring a few times so that they are cooked and browned all round, and fat separates.