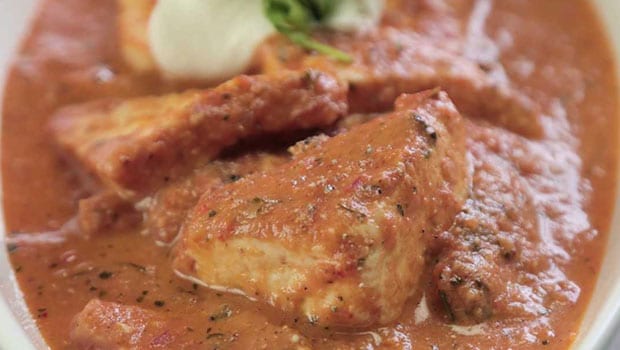 Tamatar Chaaman is a Kashmiri paneer dish with lots of spices. Fried pieces of paneer combined with a spicy tomato gravy.
Ingredients of Tamatar Chaaman
5-6 pcs Paneer / cottage cheese
3 tsp Ghee
1 tsp Sabut jeera
1/4 tsp Heeng
1/2 cup Tomato puree
2 tsp Saunf powder
1 tsp Saunth (dry ginger powder)
1/2 tsp Dhania powder
1/4 tsp Haldi
to taste Salt
to taste Red chilli powder
2-3 tsp Dhania leaves
How to Make Tamatar Chaaman
1.

Lightly fry the paneer on both sides in ghee and keep aside.

2.

In another pan, heat the ghee, add jeera and heeng and stir well.

3.

Add the tomato puree, saunf powder and saunt, stir again.

4.

Now add the dhania powder, haldi, salt and red chilli powder, mix well.

5.

Sprinkle the dhania leaves into the gravy, stir and place the paneer on top.

6.

Gently mix it all together and cook for a few minutes. Serve hot.
Key Ingredients: Paneer / cottage cheese, Ghee, Sabut jeera, Heeng, Tomato puree, Saunf powder, Saunth (dry ginger powder), Dhania powder, Haldi, Salt, Red chilli powder, Dhania leaves