Story Progress
Back to home
Tofu Burger Recipe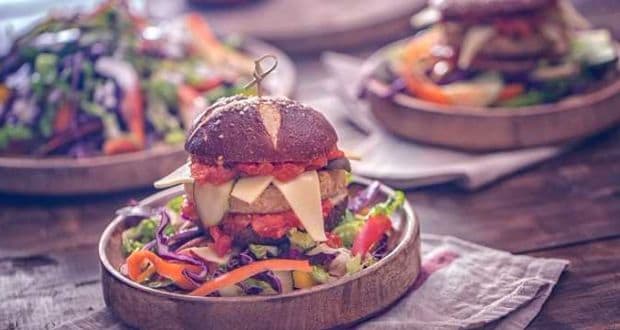 How to make Tofu Burger
About Tofu Burger Recipe: Tofu, chick peas, roasted nuts and vegetables mixed together to form a pattie. Sliced between burger buns and slathered with garlicky tahini sauce.

Ingredients of Tofu Burger
500 grams firm tofu, crumbled
200 grams roasted nut crumbs (Almond)
100-120 grams chickpea (cooked )
2 Tbsp soya sauce
4 Tbsp sunflower oil
2 garlic cloves, chopped
1 tsp cumin seeds
2 onions, chopped
2 carrots, chopped
1/2 stalk of celery, chopped
1 nutmeg
1/4 cup tahini paste
Salt
Pepper
For the garlicky tahini paste:
Garlic
Lemon juice
Water
1.
Saute the garlic and cumin in sunflower oil. Add the carrots, celery, onion and saute for a few minutes.
2.
Grate the nutmeg over the vegetable mixture.
3.
In a bowl, add tofu, chickpeas, soy sauce, roasted nuts, 1 tablespoon of tahini paste, salt, pepper, bread crumbs and mix well by hand.
4.
To the tofu mix, add the sauteed vegetables and fold.
5.
Mould the mixture into burger size patties and fry in the pan with some oil for 2-2 1/2 minutes or till golden brown on both sides.
For the garlic tahini sauce:
1.
Put the tahini paste into a bowl, and add chopped garlic, lemon juice, water, 1/2 tsp of salt and mix well until smooth.
2.
To Serve: Slather the tahini paste on buns. Add rocket leaves, sandwich the patty in between. Serve with fries.
3.
For Fries recipe: Click here