Story Progress
Back to home
Tomato Consomme and Smoked Ricotta Tortelli Recipe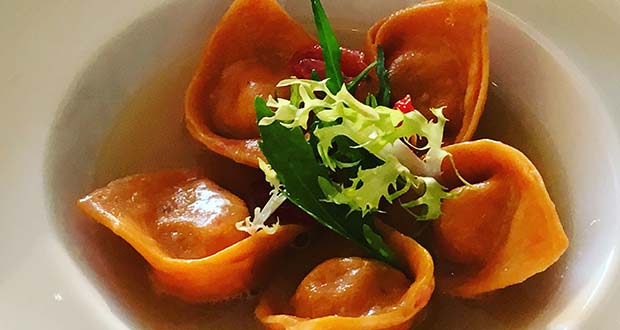 Indulge yourself in this lovely Italian meal with ravioli made from scratch and stuffed with creamy ricotta cheese. Serve it with a freshly made tomato consomme and sauteed asparagus.
Total Cook Time

1 hr 30 mins

Ingredients of Tomato Consomme and Smoked Ricotta Tortelli
2 Tbsp extra-virgin olive oil
1 large white onion, finely chopped
1 large clove garlic, smashed and peeled
3 cups of lower-salt vegetable broth
3.5 cups of whole peeled plum tomatoes, puréed (include the juice)
1-1/2 tsp sugar
1 sprig fresh thyme
3 Tbsp thinly sliced fresh basil
200 gm of white eggs
2 Tbsp of tomato puree
For ravioli:
2 A4 sheet of red fresh pasta
6 green asparagus
1 cup ricotta cheese
3 Tbsp Parmesan cheese
2 Tbsp butter
1 cup of apple wood chips
3 Tbsp of mix herbs (rosemary, thyme)
1 bunch rocket
1/3 tsp nutmeg
1/2 Tbsp salt
1/3 tsp pepper
1.
Sauté the onion, garlic in a large casserole, add the thyme, and the tomatoes, stir until it releases some jus, then add sugar and basil and then add vegetable stock.
3.
Put in the liquidizer and blend until smooth and cool down in the fridge.
4.
Once it has become cold, take the white egg and mix it with tomato paste and salt, then put the tomato soup and the white egg and some ice cubes in a large casserole and let cook under slow flame.
5.
After 45min you can see scum on top of the soup (this is all the impurity and the white egg) so in that moment remove it from the fire and we let it cool down and then we pass it through a strainer.
7.
Smoke the ricotta with some wood chips and some herbs, then sauté the asparagus with some butter and once cooked remove from the pan and cool it down.
8.
Once the asparagus have been chilled mix it with the ricotta and add nutmeg, salt pepper and parmesan cheese and then stuff the square sheet of fresh pasta and give it a tortelli shape.
9.
Bring the water to boil in a casserole and add the salt and cook the ravioli for 6 min while in another casserole bring the tomato consommé to boil.
10.
Pour the soup in the plate and then the tortelli as shown in the picture and you can add some rocket salad for decoration.