Story Progress
Back to home
Vanilla Bean Cupcakes Recipe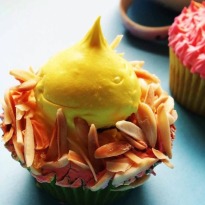 How to make Vanilla Bean Cupcakes
Try these beautiful looking vanilla bean cupcakes topped with almond-scented cream and toasted almond flakes.

Ingredients of Vanilla Bean Cupcakes
For the Cupcakes:
1 1/4 cup all-purpose flour
1 tsp baking powder
1/4 tsp baking soda
1/4 tsp salt
3/4 cup white sugar
2 eggs
5 Tbsp butter, melted and cooled
1/3 cup milk
2 tsp vanilla bean paste/ 1 fresh vanilla pod
For the Frosting:
Toasted Almond Flakes
Cream whipped to medium peaks
Almond essence
1.
Heat the oven to 350 F and line a 12 cup muffin pan with paper liners.
2.
In a medium bowl, combine the flour, baking powder, baking soda and salt. Whisk until well blended.
3.
In a small bowl, cream together the butter and sugar until well combined and lighter in color. Add the eggs and whisk until completely incorporated into the butter mixture. Whisk in the milk.
4.
Pour the wet ingredients over the dry and whisk until just combined and no large lumps remain. Scoop the batter into the prepared pan and bake for 18 to 22 minutes, or until the cakes spring back when pressed gently in the center.
5.
While the cupcakes are set aside to cool, whip up some fresh cream to a medium peak with a few drops of almond essence. Remember to start with little essence add as you go for a stronger flavor.
6.
Pipe the fresh cream onto the cupcakes and decorate with almond.