Story Progress
Back to home
Veal Schnitzel Recipe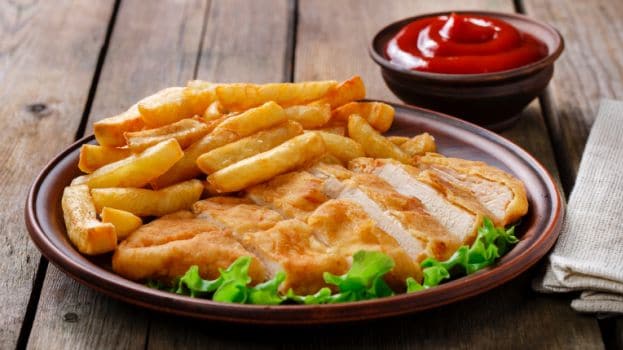 How to make Veal Schnitzel
About Veal Schnitzel Recipe: Beaten into fillets, sliced veal is dipped in egg, coated with breadcrumbs and fried crisp. Served with caper sauce and green salad.

Ingredients of Veal Schnitzel
200 gms veal tenderloin
1 egg (slightly beaten)
2 tbsp olive oil
Some flour for dredging
Some bread crumbs for coating
for garnishing salt and pepper
For the caper sauce:
2 tbsp capers (from a jar, drained, and minced)
2 tbsp extra virgin olive oil
1 tbsp lemon juice salt and pepper
1.
Beat and pound the veal with a steak hammer into fillets as thin as possible.
2.
Season with salt and pepper.
3.
Dredge the meat in flour first, then dip it into the beaten egg and then dredge it again in bread crumbs, coating the meat well.
4.
In a shallow pan, heat the oil till it is smoking and fry the pounded veal till golden, about 2-3 minutes on both sides.
5.
Remove with a slotted spoon, drain the excess oil with a paper kitchen towel.
7.
In a separate bowl, whisk together all the ingredients for the caper sauce, pour it over the meat and enjoy it with a green salad.
Recipe Notes
You can substitute the veal with chicken.
In case you don't have a meat mallet just wrap the piece of meat in a cling film, and beat it with a rolling pin.