Story Progress
Back to home
Veg Summer Rolls Recipe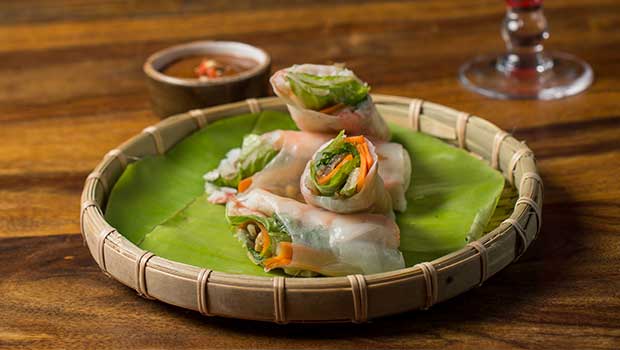 How to make Veg Summer Rolls
About Veg Summer Rolls Recipe: Spring rolls stuffed rice noodles, tofu and crisp summer vegetables. Served with spicy peanut sauce, these rolls are a great appetizer or light main course

Ingredients of Veg Summer Rolls
2 Rice paper sheets
25 gms iceberg Lettuce
25 gms carrot
10 gms bean sprouts
15 gms cucumber
15 gms tofu
5 gms basil
5 gms mint leaves
5 gram coriander
15 gram rice noodles (soaked in warm water for 20-25 minutes)
5 cups peanuts, roasted
For the Hoisin Peanut Sauce:
45 gms hoisin sauce
30 gms peanuts, roasted
5 gms garlic, chopped
15 ml oil
10 gms red chillies, chopped
50 ml water
Pepare the Hoisin Peanut Sauce:
1.
Make a paste of the roasted peanuts (Add 15 ml water & 15 ml cooking oil, grind in a mixer until smooth paste. Add little more water if required). In a non-stick pan, add the peanut paste, hoisin sauce, garlic and chillies.
2.
Add water around 50 ml and allow it to simmer until the sauce thickens. Allow it to cool.
3.
Slice the carrot and cucumber into thin slices. Cut the tofu into batons.
4.
Take a sheet of rice paper and place it in water for 10-15 sec. Place on a flat surface, by wiping excess water with hands.
5.
Layer it with cucumber and carrot slices, followed by the tofu, beans sprouts, roasted peanuts, iceberg lettuce, basil leaves, coriander leaves and mint leaves.
6.
Place the rice noodles and chicken over it. Drizzle some more sauce.
7.
Roll the rice paper. After the first roll, fold the sides and roll further. Ensure that it is rolled tightly to prevent the filling from falling out.
8.
Cut the roll at a slant and serve with the hoisin peanut sauce.
9.
Repeat the process for second sheet.