Story Progress
Back to home
Vegetable Crepe Recipe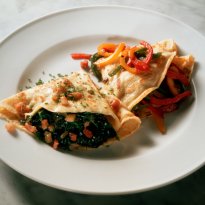 Wheat and refined flour crepes stuffed with an assortment of veggies.
Total Cook Time

1 hr 10 mins

Ingredients of Vegetable Crepe
For the Crepe
50 gm whole wheat flour
50 gm refined flour
150 ml milk
1 egg
a pinch of salt and sugar
For the filling
3 Tbsp sliced onions
1/4 cup sliced mushrooms
2 Tbsp chopped and blanched asparagus
2 Tbsp juliennes of peppers
1/4 cup sliced zucchini
1 Tbsp grated cheese
3 Tbsp steamed corn
2 tsp jalapeno peppers or green chillies
3 tsp olive oil
salt and pepper to taste
1.
For the crepes, in a bowl sift in the whole wheat flour, refined flour and salt. Mix well.
2.
In a separate bowl, mix the eggs, milk and sugar.
3.
Fold the flour mixture into the egg mixture. Strain to remove any lumps.
4.
Ladle the mixture onto a non-stick pan to make thin pancakes. Keep aside.
5.
To prepare the filling, heat olive oil in a pan and add all the vegetables. Season and cook over high heat till they turn crunchy.
6.
Warm crepes one at a time. Sprinkle the grated cheese on top.
7.
Place the sauteed vegetables down the center of each crepe and fold the ends in to overlap.
8.
Place them on a plate, sprinkle with parsley and serve with tomato salsa or any other sauce.