Story Progress
Back to home
Vegetable Manchurian Recipe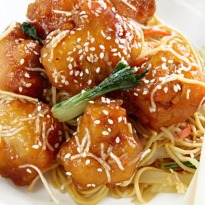 How to make Vegetable Manchurian
Freshly made veggie batter is deep fried and served in a bowl of luscious gravy. Serve with steamed rice or hakka noodles.

Ingredients of Vegetable Manchurian
500 Gram Mixed Vegetables - chopped fine or grated
2 Eggs (slightly beaten)
1 Cup Refined Flour
1 tsp Garlic Paste
1 tsp Ginger Paste
Water
2 Tbsp Oil
1 tsp Garlic , chopped
1 Cup Onions , chopped
1 Large Capsicum
For the Sauce:
3 Tbsp Cornflour (blended with water)
2 Tbsp Vinegar
2 tsp Salt
2 tsp Soya Sauce
1 Cup Tomato Puree
2 Tbsp Celery, chopped
1 tsp Ajinomoto (optional)
2 Cups Water
1.
Mix together the vegetables, egg, flour, garlic and ginger paste and enough water so as to have a thick batter. Leave aside for 5-10 minutes.
2.
Heat oil and drop heaped teaspoonfuls of the batter and fry till it becomes golden brown in colour. Drain on absorbent paper.
3.
Heat the 2 Tbsp oil and stir-fry the garlic and onion in it over high heat till the onions look glossy.
4.
Add the capsicum and turn around a few times.
5.
Add the sauce mixture, and simmer till the sauce thickens and becomes translucent.
6.
Add the fried balls, turn around a few times and serve.
Key Ingredients: Mixed Vegetables - chopped fine or grated, Eggs (slightly beaten), Refined Flour, Garlic Paste, Ginger Paste, Water, Oil , Garlic , Onions , Capsicum, Cornflour (blended with water), Vinegar, Salt, Soya Sauce, Tomato Puree, Celery, Ajinomoto (optional), Water