Story Progress
Back to home
Whole Grain Waffles with Strawberry Rhubarb Topping Recipe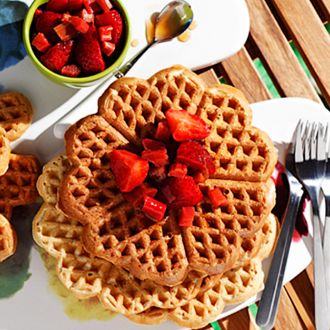 Get ready to experience the wow taste of these wonder waffles loaded with strawberry rhubarb topping and maple syrup.

Ingredients of Whole Grain Waffles with Strawberry Rhubarb Topping
Ingredients:
Topping
1/2 cup fresh rhubarb, cut into ½-inch -(1 cm-) pieces
orange juice 15 mL
maple syrup 45 mL
1½ cup strawberries, quartered 375 mL
Waffles
3/4 cup all-purpose flour
3/4 cup whole-wheat pastry flour or regular whole-wheat flour
2 Tbsp toasted wheat germ
1¼ tsp baking powder
1/2tsp baking soda
1/4 tsp salt
1/2 cup nonfat plain yogurt
nonfat milk 250 mL
canola oil 30 mL
maple syrup 15 mL
1 large egg
1/2 tsp vanilla extract
Canola oil cooking spray
Confectioners sugar for garnish (optional)
How to Make Whole Grain Waffles with Strawberry Rhubarb Topping
Hide

Show

Media
2.
1. To make topping: In saucepan, combine rhubarb, orange juice and maple syrup. Bring to boil, reduce heat to medium and simmer for five minutes until rhubarb has softened and starts to break down. Add strawberries. Return to boil and then reduce heat slightly and cook, stirring occasionally, until strawberries have softened and liquid is thickened, about 5 minutes. Remove from heat.
3.
2. To make waffles: Preheat waffle iron to medium-high heat. In large bowl, whisk together all-purpose flour, whole-wheat flour, wheat germ, baking powder, baking soda and salt to combine. In another large bowl, whisk together yogurt, milk, canola oil, maple syrup, egg and vanilla. Stir wet ingredients into dry ones, mixing only enough to combine.
4.
3. Spray waffle iron with canola oil cooking spray and ladle batter onto waffle iron according to manufacturer's directions. Close waffle maker and cook batter until golden brown, about 5 minutes. Repeat with remaining batter. Dust with confectioners sugar, if using. Serve with strawberry topping.