Story Progress
Back to home
Zucchini Methi Pulao Recipe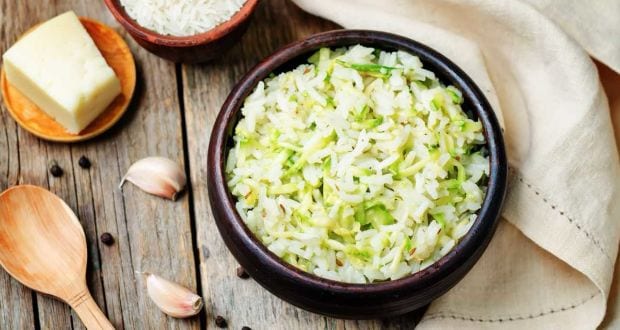 How to make Zucchini Methi Pulao
About Zucchini Methi Pulao Recipe: If you want to make different flavored rice, then try this recipe. Two vegetables put together-simple magic! Both green. One very aromatic and leafy and the other one a great squash. You can make this zucchini methi pulao for lunch.
Total Cook Time

1 hr 30 mins

Ingredients of Zucchini Methi Pulao
1300 Gram zucchini
220 grams (Wash few times and soak for 45 minutes) basmati rice
15 gram fenugreek (methi)
15 gram clarified butter (desi ghee)
120 gram clarified butter (desi ghee)
4 gram cumin seeds (jeera)
1 gram asafoetida (heeng)
medium green chilles, chopped
2 pieces ginger, julienne
to taste salt
1.
Wash the Zucchini, Peel and Halve lengthwise. Cut in thin slices.
2.
Keep aside.Chop the fresh fenugreek, sprinkle with salt and rub the salt on the leaves with your hands in a bowl.
3.
Keep for 5 minutes and wash in running water until all traces of salt have been removed. (This is done to reduce the bitterness of the fenugreek). Shake dry and keep aside.
4.
Add clarified butter in a pot. Add cumin seeds, followed by the asafoetida (dissolved in a little water). Then add the fenugreek and increase to medium heat, continue to stir and roast (approx 4-5 minutes) until you can see oil on the sides.
5.
Add the Zucchini and stir for a minute, then add green chillies and ginger, stir again. Drain the rice, add to the pot then add salt stirring gently.
6.
Cover the pot and leave on slow heat, stirring gently and occasionally for 10-12 minutes or until the rice is fully cooked and moisture is absorbed.Transfer to a bowl and serve.