Recipe of Atta Ladoo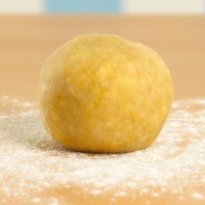 A whole wheat sweet commonly made in the Indian households.
Ingredients
1 kg atta
1 kg boora (or powdered sugar)
1 kg ghee-approx
40 gm sonth / dried ginger powder
3 Tbsp ajwain / thymol seeds, roasted
50 gm raisins
50 gm sultanas
100 gm almonds
100 gm magaz (seeds of melon/water melon)
50 gm makhana (lotus seeds) roasted and lightly fried
50 gm gond (edible gum crystals) lightly fried, and ground coarsely
How to Make Atta Ladoo
Dry roast atta, when lightly colored add ghee and saute till fat separates.
Cool completely, and add rest of the ingredients, form into ladoos and store.