Story Progress
Back to home
Cinnamon Rolls Recipe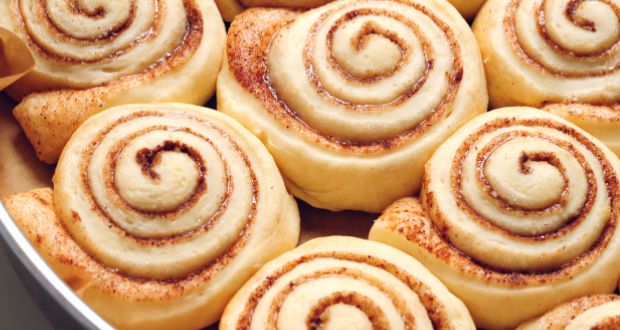 About Cinnamon Rolls Recipe: Crisp on the outside. Warm and soft on the inside with the heavy aroma of cinnamon filled in these rolls. Contrary to what you think they are very easy to make.

Ingredients of Cinnamon Rolls
1 1/2 Cups flour (maida)
1 + 1/2 cup tbsp sugar + powdered sugar
2 1/2 tbsp cinnamon powder
2 cup butter (softened)(salted in case you are using unsalted butter, add 1/2 tsp salt)
1/4 cup milk
1/2 tsp baking powder
1.
In a bowl add flour, 1 Tbsp sugar, 1 tsp cinnamon powder, 1/2 cup butter and baking powder. Mix it together. Add milk to form a smooth dough. Keep aside.
2.
In another bowl add 2 Tbsp butter, 1/2 cup powdered sugar and 2 Tbsp cinnamon powder. Mix it together till its a fine mixtures.
3.
On a clean slab roll the dough in a rectangle. Spread the mixture evenly on the dough. Cut strips of 1 cm in width and roll it delicately. Would look like this. (See picture)
4.
On a greased tray place all these cinnamon rolls.
5.
Bake for 20 minutes at 180 deg C. Serve warm.
Recipe Notes
If you want to glaze them, you can mix 2 Tbsp icing sugar with 1 Tbsp milk and brush it on the cinnamon rolls.