Chef Ashay Dhopatkar | Updated: February 13, 2017 12:08 IST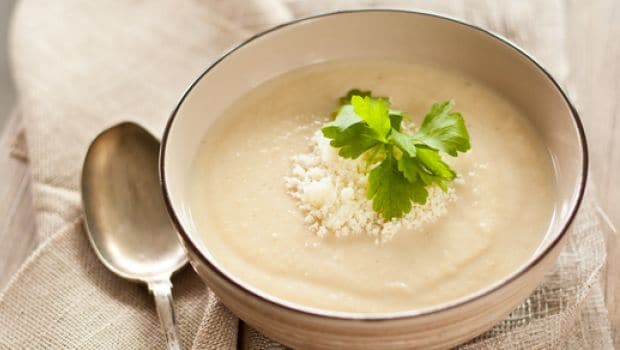 Appetiser: Chilled Pea and Mint Soup
Main: Cauliflower Risotto with Candied Walnuts and Pistachio dust
Dessert: Eaton Mess with Mulled Berries

1. Chilled Pea and Mint Soup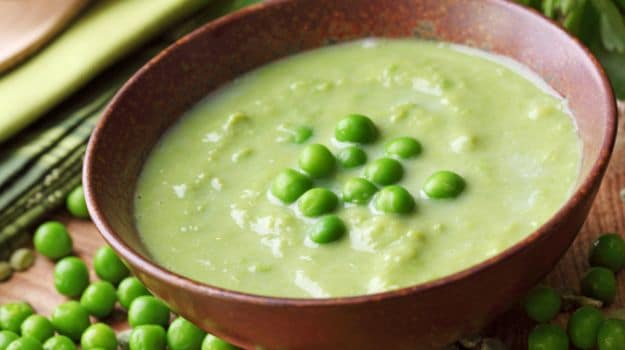 Ingredients:

Frozen Peas 500g
Onions 100g
Butter 100g
Mint 200g
Cream 200ml
Veg stock 300ml
Garlic 5g
Thyme 3g
Avocado 1
Salt to taste

Method:

1. Sweat the onions in the butter on medium heat.
2. Add garlic and thyme.
3. Add the frozen peas & stock.
4. Bring to a slight boil and take off the heat.
5. Add mint & Spinach, and blend in a mixer till nice and smooth.
6. Add the cream & adjust consistency with the stock.
7. Check the seasoning and strain in a bowl.
8. Chill in the fridge.
9. Serve chilled, garnished with Pea shoots and olive oil Place sliced avocados on top with a pinch of sea salt and Freshly milled pepper.2. Cauliflower Risotto with Candied Walnuts and Pistachio Dust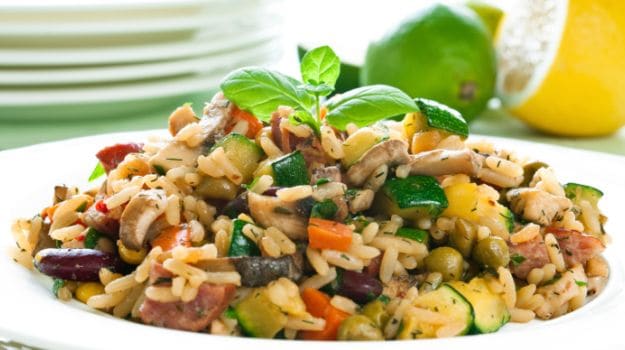 Ingredients:

Cauliflower 400g
Cream 200ml
Arborio rice 180g
Butter 100g
Olive Oil 30ml
Grated Parmesan cheese 100g
VEG stock 500ml
Garlic 5g
Thyme 3g
Rosemary 3g
Walnuts 30g
Sugar 100g
Pistachio powder 10g

Method:

1. Blanch the Cauliflower florets in Boiling water. Refresh and dry.
2. Blend in a mixer with cream & seasoning.
3. Sieve and set aside.
4. Heat the olive oil and lightly sweat the arborio rice.
5. Add garlic, thyme and rosemary.
6. Keep adding the stock as the rice cooks.
7. Add the cauliflower purée.
8. Add the Parmesan & butter. Cook till the rice has a little bite / al dente.
9. Fold everything gently. Check seasoning and add the stock to adjust consistency.
10. Place in the middle of a plate. Garnish with caramelised Walnuts and pistachio dust. Drizzle truffle oil

For the Caramelised Walnuts:
11. Heat the sugar gently without stirring
12. Once lightly caramelised, add walnuts. Pour over a payment paper on a tray and allow to cook. Pull out and crush with a rolling pin.

3. Eaton Mess with Mulled Berries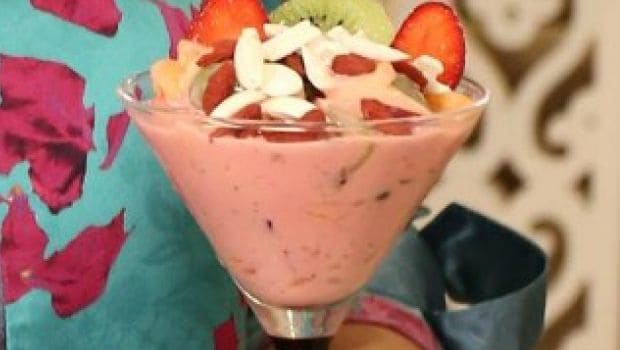 Ingredients:

For Meringue:
egg whites 4 nos
Castor sugar 220g
Lemon juice 1 Tsp
Salt 1 pinch

For Mulled Berries:
Red wine 600ml
Cinnamon stick 1
Star anise 1
Castor Sugar 100g
Orange zest of 1
Mixed Berried 400g
Candied ginger 3g

Method:

For the meringue:
1. Whisk the egg whites in a kitchen aid or with a battery operated whisk with the lemon juice.
2. Slowly add the castor sugar
3. Stop when you get nice, shiny stiff peaks
4. Preheat the oven at 120degress C.
6. Pipe the Meringue in circles on a no. Stick sheet on a tray.
7. Drop the temp of the oven to 90 degrees & bake the meringue for an hour and half. Cool.

For the Mulled Berries.
1. Add the condiments to the wine, reduce rapidly to half.
2. Add berries, and further reduce till syrupy.

To Plate: Assemble the dessert live on the table.

Place the Meringue on a plate. Use a blow torch to make the meringue brown. Pour warm Mulled Berries in the middle. Spray some whipped cream topping from a can on top. Sprinkle pistachio powder.

Disclaimer:

The opinions expressed within this article are the personal opinions of the author. NDTV is not responsible for the accuracy, completeness, suitability, or validity of any information on this article. All information is provided on an as-is basis. The information, facts or opinions appearing in the article do not reflect the views of NDTV and NDTV does not assume any responsibility or liability for the same.




Valentine's Day 2017 is right around the corner. It is a special day dedicated to love, and you should make an effort to tell your special someone how much you care and what he or she means to you. Like they say, there's no greater love than the love of food, you can cook up a special dinner at home to make the evening even more memorable. You don't really need to spend hours in the kitchen, but pick a few smart recipes that will add in all the oomph as well as be easy to prepare. Here's an intimate 3-course menu for you to help you get started -