It is a truth universally acknowledged that a pat of
butter
makes everything taste better. Think about hot, crisp waffles, floating in a moat of butter and honey; a
dosa
with its hot, crispy folds slathered with butter; the iconic Mumbai sandwich, fat, buttery and delicious; prawns, fresh from the sea and slick with garlic butter; a steaming hot
chapati
with its puddle of butter (and perhaps a sprinkle of sugar).
How to Make Butter
Traditionally, butter was made using a wooden churn with paddles that you had to spin laboriously by hand. Luckily, today, it is really easy and takes hardly any time at all. My mum, who is the resident butter-making expert, tells me that all you need is a mixer, lots of ice and cream at room temperature. In a big, deep-sided vessel, empty the
malai
(she skims the cream off the top of full-fat milk every day). Add lots of ice cubes and then beat, beat, beat with an egg beater or an electric whisk at medium speed. After about five minutes, the fat and the buttermilk will separate: the fat (butter) will rise to the sides and the pale liquid (
buttermilk
) will pool at the bottom. Next, strain the fat with a
cheese
cloth, squeezing to make sure every drop of liquid buttermilk is removed. If you like, you can wash the butter with cold water several times, which will further ensure the removal of buttermilk.
Afterwards, my mum usually kneads salt into her butter which helps to preserve it, but depending what you are cooking with it, you may leave it unsalted. This will spoil faster though, so make it if you know you are going to finish it within a couple of weeks. Your yellow clump of home-made butter will have a fresh, unctuous mouth feel with slightly tangy undertones. The butter will be much paler than store-bought ones, which is as it should be.
(Buy breakfast foods like museli, jams and spreads here)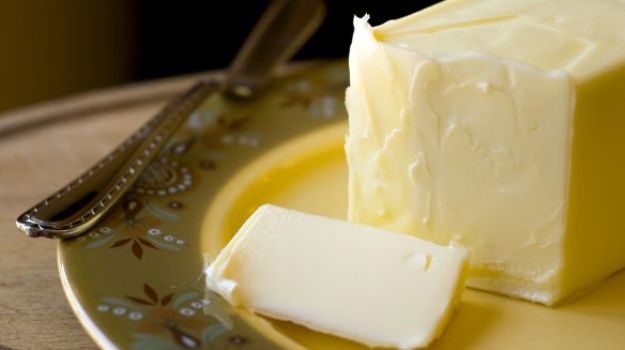 Spruce It Up
Once you have your pat of butter, you can add all sorts of
flavours
to it. One of the most unusual and delicious combinations is vanilla butter. Here is a ridiculously simple recipe off one of my favourite books, Heston Blumenthal at Home. What you need is unsalted butter at room temperature and four to five fresh vanilla pods. Halve the pods lengthways, scrape off the seeds and then blend them into the butter using a hand blender. I poured a tiny lake of this around a salted, fried fish fillet and it was excellent.Parsley butter is also quite simple to make. Melt
unsalted butter
in a pan, add a dash of lemon juice, finely-chopped fresh parsley, salt and a dash of mustard and mix in a blender. Parsley butter tastes delicious drizzled over grilled, sautéed and
roasted fish
, chicken and even steak.If you're up for a little mess, then try making whole
roast chicken
with it. It's a bit fiddly but absolutely worth the effort. I took a whole, raw, brined chicken and gently loosened its skin. Then I slipped spoonfuls of parsley butter under the loosened skin, add a further lick of butter to the outside and popped it in the oven to roast. The meat was juicy and tender, the skin crisper.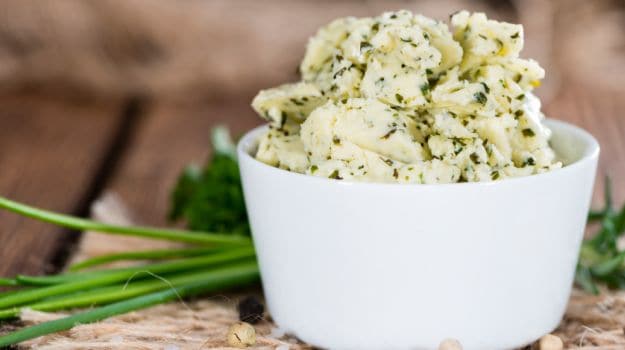 Blumenthal gives recipes for all sorts of butter variants - acidulated butter with vinegar and wine, blue cheese butter, even a sour cream butter made with soured cream and cream cheese. Think of butter as a blank canvas; you can add whatever you like to it –
chillies
,
thyme
,
paprika
, lime, orange, apple,
coriander
,
mushrooms
, wine, bacon, anchovy, whatever! You can even tweak butter by cuisine. Perhaps a Schezwan butter made with vinegar, soy, chillies and
chilli sauce
? You can serve it with a slab of fish or a heap of green, leafy vegetables.
How to Brown Your Butter
Browned butter (what the French call beurre noisette) is a good way to add complexity and richness to your dishes, without a lot of extra effort. It sounds complex but it's really only butter heated until it darkens. You can add it to risotto, popcorn, veggies, over poached fruit, in tart fillings, in
brownies
etc. Now I am going to tell you how to use brown butter in a classic French dish - Sole Meuniere. It's sounds intimidating but isn't at all; perfect for impressing friends and family.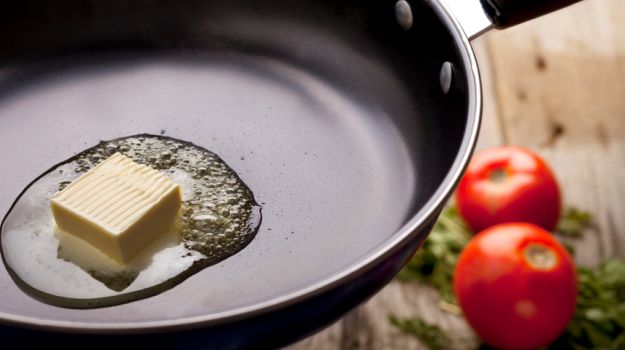 Take a fillet of flatfish and rub it with salt and pepper, dredge lightly in flour and cook it in a mixture of oil and butter until golden brown. Now for the Beurre Noisette, take the fish off the pan, and put a stick of butter in the same pan. Let it melt and bubble on gentle heat, and keep whisking until it browns. Word of caution: The
butter
turns amber all of a sudden, so don't take your eyes off it. Once done, take it off the fire (or it will keep cooking), strain if you like, squeeze lemon juice and add fresh parsley, then pour it on top of the
fillets
. Voila!
Disclaimer:
The opinions expressed within this article are the personal opinions of the author. NDTV is not responsible for the accuracy, completeness, suitability, or validity of any information on this article. All information is provided on an as-is basis. The information, facts or opinions appearing in the article do not reflect the views of NDTV and NDTV does not assume any responsibility or liability for the same.