Red Rice Recipes: One of the common foods of Indian cuisine, rice enjoys being the most important food crop of the sub-continent besides being tagged as the most versatile as well as auspicious one. And why not? Rice is one dish that you can pair your any curried dish with, from chicken to lentils, or use it to prepare anything from a starter to sumptuous desserts. In various parts of India, rice is considered to be an auspicious symbol of fertility and life too. It is one of the most popular food crops, and cover around one-fourth of the total cropped area of India that feeds about half of its population.


Even though it is an extremely important food to almost every cuisine, the debate around how rice is not really a healthy option has been on for a long time. There are four types of rice that we have, with white rice being most common and the one that is always under the scanner. White rice is a highly refined version of raw rice, which is hulled and milled. The processing and milling of raw rice takes away significant parts of grain- bran and germ, which are rich in dietary fibres and other healthy nutrients. Dr. Ritika Samaddar, Max Healthcare Saket, New Delhi agrees and adds that the polishing of raw rice removes essential nutrients- about 67% of vitamin B3, 80% of vitamin B1, half of phosphorus and manganese besides iron and essential fatty acids- which makes white rice left with starch that can be a hindrance for those looking to manage weight. This is where other healthier, coloured alternatives come into the picture.


(Also Read: Kerala's Trademark Red Rice and What Makes it So Special)
Red rice is another popular variety of rice along with brown rice that is most widely available. Red rice is either un-hulled or partially hulled, meaning we can chew on the bran or germ that is brimming with many beneficial properties. Red rice is Kerala's trademark, where it is also known as 'puzhukkalari' or 'matta rice', known for its distinct flavour, fluffy texture and rose-coloured hue. Rich in antioxidant called anthocyanin, which is said to help reduce inflammation, allergies, prevents the risk of cancer and also aids in weight management.


If you are looking to lose some weight, manage your digestion and metabolism, you don't really need to let go the staple dish of rice completely. Here we have curated some interesting red rice recipes that you can prepare at home.
Here Are 4 Best Red Rice Recipes To Try At Home:
A traditional south Indian delicacy, avial with red rice is a popular Kerala dish that comes with the goodness of a host of vegetables like drumsticks, potatoes, raw banana, raw mango and carrots along with green chillies. Served with red rice, this is a perfect lunch recipe to prepare at home.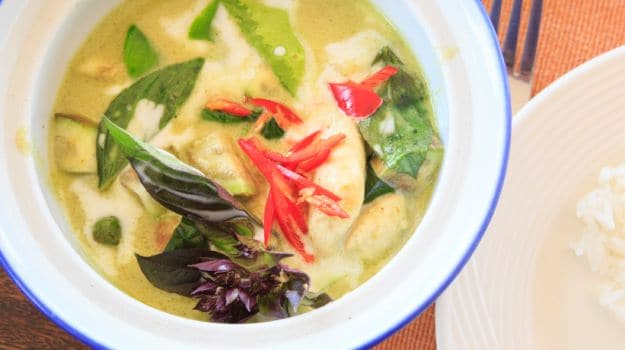 Red Rice Recipes: A thick mixture of vegetables like drumsticks, potatoes and carrots are cooked in coconut oil and mustard seeds.
Made in just about 30 minutes, this delectable kheer is packed with the goodness of vermicelli made of red rice along with saffron, almonds, cardamom and milk. It is the perfect Indian dessert to prepare on special occasions.
Red Rice Recipes: Kheer is the quintessential Indian dessert that is easy to prepare and simply irresistible to relish!
A quintessential breakfast recipe, give your poha another healthy twist by adding the goodness of red rice. Sauteed with mushrooms, white wine and tomatoes, this red rice recipe would be an ideal way to gorge on all the nutrients in delicious way!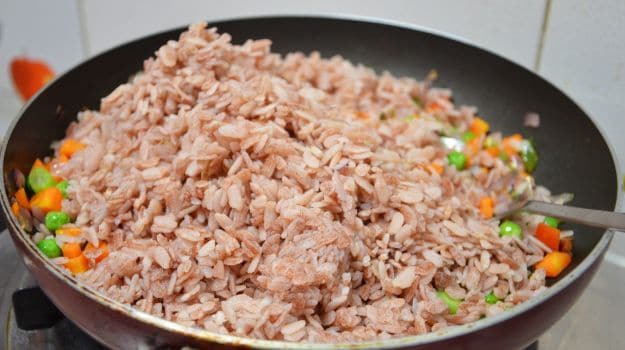 Red Rice Recipes: Relish a healthier version of the usual poha.
Salad is always a good idea to boost your energy and cater to those hunger pangs in a healthy way! Here is a tasty yet nutritious salad recipe, packed with barley, kidney beans, corn, pomegranate, apricots and red rice with a tantalising dressing of orange juice, lemon juice, pepper, salt, thyme and basil. Easy and quick to prepare at home, this is a great way to boost your energy.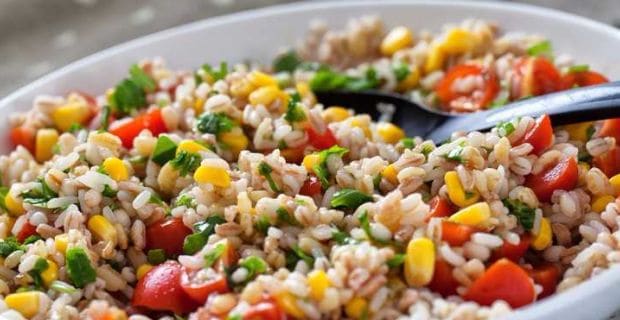 Red Rice Recipes: Doused with freshly made dressing, this is a delicious salad recipe to prepare at home.
Reap in the benefits of red rice with these amazing red rice recipes at home. Do let us know your favourite one in the comments section below.
About Aanchal MathurAanchal doesn't share food. A cake in her vicinity is sure to disappear in a record time of 10 seconds. Besides loading up on sugar, she loves bingeing on FRIENDS with a plate of momos. Most likely to find her soulmate on a food app.